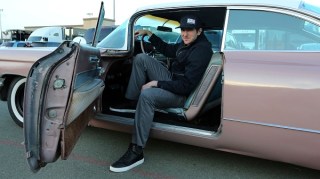 It's always good for JR Hildebrand to come home to Northern California. It's even better when he rolls up in a classic, exotic hot rod.
The 25-year-old from Sausalito, Calif. kicked off his third full season in the IZOD IndyCar Series with his and the Panther Racing's first test at Sonoma Raceway on Wednesday. However, compared to an ordinary run-of-the-mill rental car, Hildebrand showed up at the track in a newly purchased pink 1962 Cadillac Coupe Deville.
For Hildebrand, who's occasionally been dubbed the "pink Panther" in races he has driven with an alternate pink and camouflage livery on his No. 4 National Guard car, it's nothing new. He's an avid fan of classic cars.
"I've always had a thing for early model year Cadillacs, but the 1962 Coupe DeVille has always been the one for me," Hildebrand said. "It's 50-plus years old and it's hard to find one that's not either a piece of (crap) or completely restored. The guy I bought it from sent me a bunch of pictures and I almost made an offer without seeing it in person."
Hildebrand's other prominent collectable is a 1966 Chevelle SS, a present from Panther team principal John Barnes after following Hildebrand's rookie attempt and near-win in the 2011 Indianapolis 500.
When it came to the test itself, Hildebrand spent the day turning his first laps of the year. Like fellow Chevrolet team Ed Carpenter Racing, Panther opted to skip a test last week at Sebring International Raceway.
Panther's technical partnership with Dreyer & Reinbold Racing allows Hildebrand to benefit from the resources at their disposal including Panther DRR driver Oriol Servia. Panther has increased its engineering talent, too, with the addition of former Andretti Autosport engineer Tino Belli.
"The main positive I took from the test was how well we worked with the Dreyer & Reinbold guys," Hildebrand said. "One of the differences for us this year is we have a lot more pieces that are going to help us put the puzzle together. Having (Technical Director) Tino (Belli) from Andretti definitely is a big help, and having a more efficient relationship with the D&R guys gives us a lot of information at our disposal."
Hildebrand's best finish in 2012 was fifth on two occasions, including on the Long Beach street course.