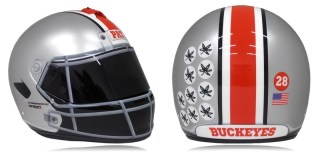 The Ohio State University will be in action this weekend, but not for any spring tune-ups ahead of the 2013 Buckeyes football season.
In one of the more innovative link-ups in racing in recent years, Ohio State student and Playboy Mazda MX-5 Cup driver Patrick Gallagher will wear a Buckeye helmet this weekend at the Mid-Ohio Sports Car Course in Lexington, Ohio.
Gallagher, 20, is a junior mechanical engineering major at Ohio State, and a full-time driver for Los Angeles Angels of Anaheim pitcher CJ Wilson in the No. 28 MAZDASPEED Motorsports CJ Wilson Racing MX-5 car.
The helmet was created by the talented livery designer Andy Blackmore and was finished and delivered being hand painted by Tyler Cenarusa of Censport Graphics. The retail value of this one-off helmet is approximately $3000.
It will be signed and auctioned immediately after the event with all funds benefiting the Hematosis and Thrombosis Center at the Nationwide Children's Hospital in Columbus.
The race track and university are nearly inextricably linked for Gallagher, a native of Thornville, Ohio.
"While my mom was pregnant with me she was watching my dad race from the Keyhole (Turn 2 at Mid-Ohio)," said Gallagher. "After the race, they went home and a few hours later I was born. It's a cool story but I wish I was actually born at the track – that would have been pretty awesome."
"I am thrilled to have the support of The Ohio State University and the opportunity to wear the school colors on a unique helmet design," he added. "To have the support of so many people from such a large school like Ohio State is an incredible feeling. We will be looking to score a win for the whole OSU group!"
Wilson put the pressure on for the weekend. The online auction begins today, June 10, with more information available at www.cjwilsonracing.com, www.leftylefty.com, and on the CJ Wilson Racing Facebook page.
"A great thing about racing is we have an opportunity to recruit from across the country and showcase partnerships locally at each event. With Patrick being an Ohio State student, partnering with the school, for the Mid-Ohio round, while showcasing the work of the charity, will be awesome.  Now all he has to do is set pole, and win the races or he will never hear the end of it from the crew."
Gallagher, who won MAZDASPEED's Club Racing scholarship to compete in this year's MX-5 Cup series, enters the doubleheader weekend June 15-16 in fifth place in the series points standings. He has a best finish of second, set last race at Mazda Raceway Laguna Seca in May.