Alex Tagliani's been through several peaks and valleys in a dozen-plus year IndyCar career, and maintained resilience and composure through it all. He's been on pole for the Indianapolis 500, and also been unceremoniously dumped more than once.
And yet, the nerves struck the popular Canadian in an entirely new way when he strapped into the No. 61 R.Ferri/AIM Motorsport Racing with Ferrari F458 Italia GT car at, of all places, the Kansas Speedway "roval" for last week's GRAND-AM Rolex Series race.
"Honestly, I've never felt the way I did like I did last weekend," Tagliani told MotorSportsTalk in a Monday interview. "I was more nervous than at the start of the Indianapolis 500! It was a bit stressful at first.
"There was more to it than just, you drive, get in the car, do your best and see you later. It was, I'm driving a Ferrari red car, wearing a Ferrari red suit, having had passion for the brand since I was a kid and growing up with Gilles Villeneuve in a Ferrari as my idol. When you put the suit on you know what you have to represent, because they have a job and certain standards to respect because they are representing Ferrari."
Tagliani was a last-minute substitute for Max Papis in Kansas as co-driver to Jeff Segal, defending Rolex GT class co-champion, as Papis had NASCAR obligations in Mid-Ohio. The No. 61 is a new car this year, joining the sister No. 69 AIM/FXDD Ferrari in the AIM Autosport stable, and won its first race with Papis and Segal at Indianapolis in July.
Tagliani couldn't fill in for Papis a week earlier at Road America with his own NASCAR Canada commitments in Trois-Rivieres, and fellow Canadian Kenny Wilden did so admirably.
Team principal Remo Ferri, a several-decade motorsports veteran, Ferrari dealership owner and Italian who now lives in Canada, described the process of providing Tagliani this opportunity.
"Through our racing department, when we found out he was no longer driving in IndyCar, we reached out and contacted him," Ferri said. "It was fantastic to see a Canadian of Italian descendents driving the car. I'm Italian, I live in Canada, and it was great to put a great Canadian driver in our car."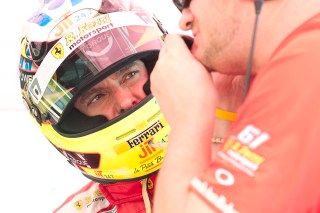 Tagliani's enthusiasm bled through the phone when I asked him the same question.
"Never in a million years would have I turned the offer down, because it was too good to be true," he said. "When I started racing in IndyCar, well I thought it was almost impossible at my age. I was dedicated to North American racing, and IndyCar was my series. So the chance of driving a Ferrari car, in a professional series, was long gone in my mind. I was not thinking about it. But then this did happen, and it was the best thing that could have happened."
Almost immediately, Tagliani gelled with the team, which also includes two of his other late-1990s Atlantic rivals besides Wilden, Andrew Bordin (AIM Autosport team co-owner) and Anthony Lazzaro, who co-drives with Emil Assentato in the No. 69 AIM/FXDD Ferrari.
Tagliani and Segal began working through data, with Tagliani able to feed off Segal's expertise of the GRAND-AM spec Ferrari F458, yet still able to provide his own insights that he thought could make a difference.
"I didn't feel like I was subbing; I didn't feel like it was a one-race event. I want to do more," Tagliani said. "I got involved with the team right away in looking at setups, trying to see if we could develop the car in a different way."
Ferri spoke highly of Tagliani's feedback but acknowledged that it was difficult to learn too much from just one race.
"I can tell you he did a good job, and I praised him at the end of the race," Ferri said. "I know he is a good driver, but let's find out a little more."
Things couldn't have gotten off to a better start as Tagliani scored the pole position on Friday. But unfortunate issues on a pit stop late in the race truncated what had been a promising debut, where the No. 61 led laps throughout the night.
The biggest takeaway I took from my near 30-minute conversation with "Tag" – you hate to cut so much of the chat out – was his passion exuded for Ferrari. In an era where commercialism and corporate interests rule heavily, the simple concept of a driver falling in love with a car, its history and what it represents speaks volumes compared to a driver merely thanking his or her sponsors and getting on with it.
Tagliani explained the rationale behind that logic: "Anything I've raced before has layers: it has a race suit and the sponsor. You're driving a Ford Cosworth-powered car with Player's on the chassis. You're driving a Honda with Barracuda Racing as the sponsor. But when you drive a Ferrari, with a Ferrari suit, you're driving a Ferrari first."
Understandably, Tagliani is looking toward the future and he may be examining making a home in sports car racing full-time with Ferrari in 2014. Without reading too much into things, both Tagliani and Ferri seem optimistic that Kansas wasn't just a one-off.
"I was very happy," Tagliani said. "I think I fit well with the brand and the team. I'm very thankful and appreciative that I had this opportunity once in my life and that it could open more doors than I could have imagined."
Ferri likened it to the beginning of a relationship.
"I like the guy very much; we're just beginning to date each other, like a couple," he said. "And if we go out again, and again, and again, eventually, we might get married."