The run up to the United States release of "Rush" is on, and to mark the occasion, the NBC Sports team has assembled a countdown of the Top 10 drivers in the history of Formula One.
We'll be revealing our picks for this very special list over the next couple of weeks here on MotorSportsTalk. For this opening post on the countdown, we'll focus on positions 10 through 7. So, without further ado, let's get started…
No. 10 – Nigel Mansell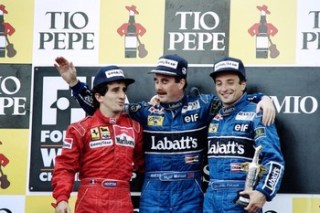 While his polarizing personality didn't help him at times during his F1 career, Mansell's talent was undisputed. A hard-charging driving style helped him earn 31 career Grand Prix victories, which is tops among all British F1 drivers and puts him sixth overall on F1's all-time wins list. In 1992, after placing second in the championship three times previously, Mansell (middle, above) took the world title with a dazzling season that began with five consecutive triumphs (he would win nine times that year). He then moved across the pond to IndyCar, where he took the 1993 crown for Newman/Haas Racing; because that year's F1 title hadn't yet been decided, he became the only driver in history to hold both those series' championships at the same time.
No. 9 – Niki Lauda
Lauda claimed three World Championships and 25 Grand Prix in his F1 career, but will also forever be known for his hellacious 1976 crash at the German Grand Prix – and his heroic return to the track just six weeks later in Italy, where he finished fourth despite still healing from the serious burns he sustained at the Nurburgring. He would narrowly lose out on the title that year to rival James Hunt after choosing to withdraw from the season finale in Japan due to torrential rains at the Fuji circuit – "my life is worth more than a title," he famously said. One year later, he would earn his second championship and eventually gained another in 1984 after a season-long duel with the next driver on our list…
No. 8 – Alain Prost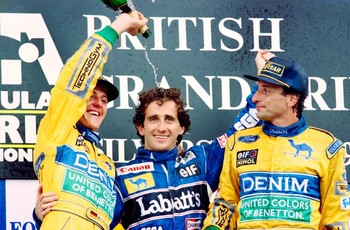 The combination of a smooth style behind the wheel and a more cerebral approach to racing – one that earned him the nickname of "The Professor" – made Prost (above, middle) one of the top competitors in the sport during the 1980s and early 1990s. With four World Championships on his mantle, he is one of only three drivers to have at least that many (Michael Schumacher – seven; Juan Manuel Fangio – five). That alone puts him in high regard, and then you come to his dramatic and electrifying rivalry with Ayrton Senna; even the greatest need to be pushed, and in Senna's case, that push came from Prost, who never let up in their legendary battle of wills that people still talk about today.
No. 7 – Jackie Stewart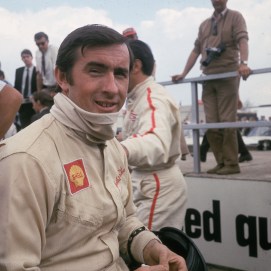 With 27 Grand Prix wins and three World Championships, the on-track credentials of "The Flying Scot" are stellar enough. He also served as one of the sport's more beloved drivers as well, and still enjoys a high level of popularity even today. But Stewart's crusade for a safer Formula One paddock may ultimately be his greatest legacy. Driving in an era that saw multiple fatalities on the circuit, his battle for improved safety measures – from mandatory use of seat belts and full-face helmets to more safety barriers and runoff areas at tracks – would transform the sport and also vindicate him after having to deal with strong opposition. Indeed, every current driver owes him a major debt.
We will reveal the remaining drivers in our Top 10 after the Singapore Grand Prix on Sept. 22.