The run up to the United States release of "Rush" is on, and to mark the occasion, the NBC Sports team has assembled a countdown of the Top 10 drivers in the history of Formula One.
We'll be revealing our picks for this very special list over the next couple of weeks here on MotorSportsTalk. We focused on positions 10 through 7 in the first post, and here's the next batch of three, numbers 6 to 4…
No. 6 – Fernando Alonso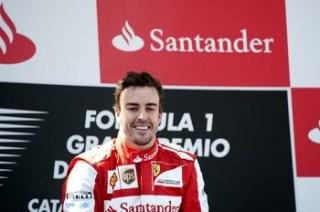 The first active driver on our countdown, Alonso emerged at the head of F1's new breed of young talent in the early-to-mid-2000s. He debuted as a teenager with Minardi in 2001, and his first of 32 career victories, the 2003 Hungarian Grand Prix, earned him the distinction of youngest Grand Prix winner. He achieved a similar accolade – youngest World Champion – at age 24 in 2005, his first of two consecutive titles. But that mark has been eclipsed twice since as Alonso's bounced around from Renault, where he won both his titles, to a tumultuous single season at McLaren, back to Renault, and then to his current seat at Ferrari. In the last five or six years, Alonso frequently has had to outperform his machinery to remain in title contention, and is still widely regarded as the most complete driver on the grid today.
No. 5 – Jim Clark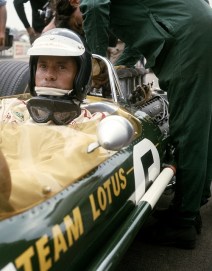 The Scot won the 1963 and 1965 World Championships and in the latter year, he also won the Indianapolis 500. Clark's versatility, poise, confidence, pace and ability behind the wheel were his trademarks, and during the 1960s he and Colin Chapman's Team Lotus set the benchmark for success in F1. His Grand Prix career included what were records at the time of 25 victories and 33 pole positions, although those have since been eclipsed.  Tragically, the talented driver was killed in a Formula Two race at the Hockenheimring in 1968. Clark's legacy lives on for those who were fortunate enough to see him race. Clark's impact was profound on Dario Franchitti, three-time Indianapolis 500 and four-time IZOD IndyCar Series champion, as he considers Clark his racing hero.
No. 4 – Sebastian Vettel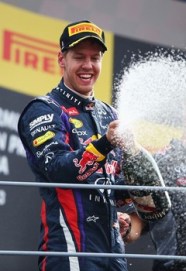 Vettel was destined for stardom from the moment he entered F1, and over the last five years, he's performed a nearly unrivaled assault on the record books. Like Alonso he debuted as a teenager, and scored a point on his debut for BMW Sauber in the 2007 U.S. Grand Prix. He became the youngest race winner a year later with Scuderia Toro Rosso, formerly Minardi, at Monza in 2008. He won Red Bull's first race in 2009 and in 2010, made it to the top of the mountain where he has established residency as F1's youngest World Champion at age 23. Three consecutive titles, 32 victories, 40 pole positions later and with a current lead of more than 50 points in the 2013 campaign, there's no telling when Vettel and Red Bull-Renault's run of success will stop.
We will reveal the remaining drivers in our Top 10 after the Singapore Grand Prix on Sept. 22.