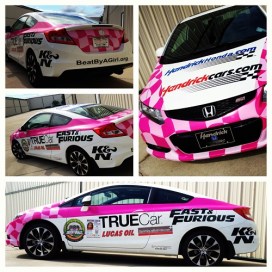 One of the more unique racing-related events is "Fireball Run," an eight-day, 2,500-mile rally across America's western states done for a good cause – to help raise awareness for America's missing children.
Professional racecar driver Shea Holbrook, of Groveland, Fla., is back to defend her Sedan class title in the event this year with longtime friend Tarah Mikacich, a professional wakeboarder. Holbrook drives and manages her own team in the Pirelli World Challenge sports car championship.
An intense pink-and-white livery will adorn the pair's 2013 Honda Civic Si courtesy of HendrickHonda.com and HendrickCars.com, with support from partners TrueCar, Lucas Oil, Sportique Brands, K&N Filters and BeatByAGirl.org.
In an era where technology is so prevalent, in terms of GPS and other apps available to help driving, Holbrook will have to rely on some "old school" technology – maps and an atlas – to help complete the rally.
"This year I'm particularly excited because our route goes through awesome geographical areas!" she said. "It will definitely be a test as we've been told to have an atlas and they're recommending a CV radio to communicate with other teams (that's if you make alliances!) So, I believe the teams will be relying more off each other this time around and let's face it, in this game you have to watch your back!"
The first few days will be in Colorado, with the race starting in Longmont. Colorado has been through some devastating floods recently and Holbrook hopes this rally can provide a positive jolt of energy to the community.
"The start will be very interesting this year. Recently, there's been terrible flooding in our starting location, Longmont, CO," she said. "Fireball Run brings good in many ways and is economically great for the towns we go through. I hope we can help Longmont get back on their feet and dry that town out!"
Local supporters, fans and media are welcome to meet the teams at each destination and fans nationwide can follow the adventure LIVE on FireballRun.com/LIVE beginning Friday September 20.
Further information on Holbrook's 2013 "Fireball Run" effort can be found here via the Pirelli World Challenge website. A recap of her 2012 experience is linked here in this RACER magazine blog entry.