For the second consecutive season, Ferrari has captured the championship in the GRAND-AM Rolex Series' GT class. That gives the Scuderia a perfect 2-for-2 strike rate in the years it has entered with the GRAND-AM spec F458 Italia, before 2014 arrives and GRAND-AM and the American Le Mans Series take the green flag as the newly merged Tudor United SportsCar Championship.
Scuderia Corsa followed AIM Autosport/Team FXDD's championship-winning ways of 2012. This year, Alessandro Balzan took the title in dramatic fashion in the season finale at Lime Rock Park. Balzan entered the title decider down four points to the Magnus Racing pair of Andy Lally and John Potter, but avoided trouble as the Magnus Porsche was hit by another car on just the second lap of the race. With second place, his ninth top-five finish in 12 races, Balzan emerged as champion ahead of Lally and Potter by 10 points.
"I was never relaxed during the race since things were always happening in front of us, behind us, or next to us," Balzan said after the race. "The DP's were passing us and sometimes it was a nightmare because you know that you are leading the championship but you also know that you are losing so much time in traffic."
Scuderia Corsa team principal Giacomo Mattioli explained Balzan rose to the challenge in his first full season of Rolex GT competition.
"The thing that really convinced me is his track record," Mattioli said. "This is now five years in a row he's won the championship: Porsche Cup three years, Ferrari Challenge and now Rolex GT. I knew he wouldn't crack under pressure, and wouldn't do, shall we say stupid things.
"What I was surprised by is how quickly he has learned and adapted to tracks, and to tires he didn't really know. That beat even my expectations. It's a telling talent. That's hard to do and it's not easy to predict how quickly he'll pick up a track. I've never seen anyone else do that within 3-4 laps."
Balzan had several different co-drivers in 2013 – Alessandro Per Guidi for two races, Jeff Westphal through Watkins Glen and Leh Keen the last five races – and had to mesh his style with whoever else was sharing the seat of the No. 63 Ferrari F458 Italia. They only won once, but had the best finishing record in the field.
"The chemistry between the drivers is a key ingredient, but the chemistry among the team is a bigger ingredient," Mattioli said. "Pretty much every driver who has raced for us has felt welcome and comfortable and grown in very quickly. One big component with Alessandro is he is a super nice guy. He's easygoing, he makes everyone comfortable, and he gelled with Jeff and Leh. I couldn't have scripted it."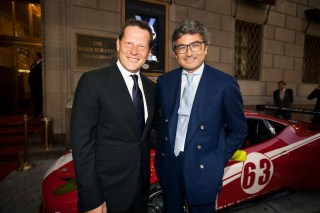 Nor could they have scripted the fact that the team could enter into Rolex GT and win the title in its first full season. Mattioli and Ferrari North America president/CEO Marco Mattiacci have a strong relationship and to win in front of Mattiacci was great for both individuals.
"My background has been in working with the factory," said Mattioli, who was born and raised in Modena and eventually came to work for Ferrari in North America. "We have had the opportunity to see – shall we say, both sides of the fence: the corporate and retail ends of it. I have a unique perspective to be able to reflect and understand the factory requirements. Marco and I have had a friendship for many years, but we are very in tune on the business side."
"The manufacturer championship is very important for Ferrari, because it demonstrates not only the phenomenal performance, speed, balance, but also the reliability of the 458 Italia," Mattiacci said immediately after the race. "To win it for the second time, against the high level of competition in the Rolex Series in the United States, is an achievement we are very proud of."
Balzan reflected on the title, too, as this was his first full season racing in the U.S.
"I am very happy for the team. Everyone at Scuderia Corsa, really deserved it," he said. "It's really crazy to think we are champions in the first year. I have to thank Giacomo because he believed in me, otherwise I would have never gotten the seat. I'm a 100% Scuderia Corsa product, and it is a dream for a little Italian driver coming from Italy that is now living in Modena."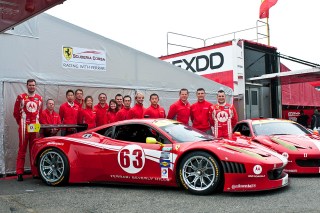 Looking ahead to 2014, Mattioli confirmed Scuderia Corsa will return to defend its title.
"It's definitely exciting and very interesting, the first year, because it's easier said than done when you mesh two different series and so many classes," he said. "We're staying in GTD. The goal is two cars for the full season.
"We are very happy to be involved with the Tudor United championship. I think there will be a lot of competition again, coming from Porsche, coming from other manufacturers. But we'll be there with the 458 package.
"For a driver – this is not me saying it – but the opportunity to race for Ferrari is the top," he added. "I think our drivers feel the same, we are very lucky to be involved with Ferrari and there are few things in life you cannot separate. It's part of the DNA of the company. If you want to represent Ferrari at any level – retail, business, dealer – you need to race. It's exciting, it's fun."