The Thursday before the Grand Prix of Baltimore, I ran into Josef Newgarden at an abnormal place – outside the media center, preparing to do a photo shoot with kittens to raise awareness for "Show Your Soft Side" – a Baltimore based anti-animal abuse campaign.
Newgarden promptly delivered the best weekend of his IZOD IndyCar Series career, qualifying in the Firestone Fast Six for the first time this season and finishing on the podium for the first time in his career. He finished second to Simon Pagenaud after a roller coaster of an afternoon.
We joked at the time that Newgarden's weekend in the No. 67 Sarah Fisher Hartman Racing Honda was fueled by "kitten power."
As it turned out, the kitten he'd met before the weekend made more of an impact on the 22-year-old Nashville native than we'd realized.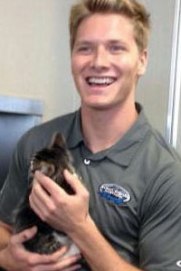 And now, a little more than a month later, Newgarden and little MJ – now called Simba – are reunited for good. Newgarden has adopted the kitten, with the help of the Baltimore Animal Rescue and Care Shelter (BARCS) and Southwest Airlines.
Newgarden submitted the adoption application to BARCS, and received the fatherhood approval. Southwest agreed to fly little MJ to Nashville on Thursday, where Newgarden picked him up.
Newgarden posted a pic of Simba on his Instagram page and wrote, "The prince has arrived. Thanks to @BARCS_SHELTER and @southwestair for helping facilitate the move. Supporting local animal adoptions is important to me, and Simba was a good luck charm to me in Baltimore this year for the @indycarofficial race. Happy to bring him into our family. Support @bestfriendsanimalsociety and your local shelters."
Newgarden's sophomore season on track has featured an impressive results improvement; he has three other fifth-place finishes, most recently in Race 1 at Houston, to go along with his Baltimore runner-up.
But to see him serve as an advocate for a great cause is just more reason to respect the mature beyond his years driver.