It's that time of year again when all the pundits rank the season just passed. With some time to reflect on the 2013 IndyCar Series season, my top-10 drivers are below, and my MotorSportsTalk colleague Chris Estrada's will follow. Without further adieu:
1. Scott Dixon
If the rest of the top 10 and beyond is hard to separate – and really, from second through about 12th, it is – Scott Dixon stands alone at the top of my 2013 IndyCar Top 10 list. In a year where drivers and others were great in some areas but lacking in others, Dixon and the Target Chip Ganassi Racing were really the only complete package.
With four wins in total, dominance at the three doubleheader weekends and a resiliency to bounce back from both a rough first half of the year and back-to-back gut punches at Sonoma and Baltimore, Dixon embodied team principal Ganassi's mantra that the No. 9 crew "never gave up."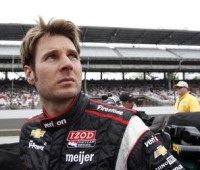 2. Will Power
Power in second may be a surprise choice but if we're looking at drivers, not purely results, we have to take the Australian's season into consideration. His results were erratic but consider his luck was abysmal for most of the year. He was speared at St. Petersburg under yellow, his engine grenaded in Brazil, he was taken out of Detroit Race 2, and saw other results go begging at both Toronto races and Baltimore after contact with the Target twins.
His wins were just reward for pace and persistence throughout the year, and apart from the actual results, Power's stats were still otherwise phenomenal despite this being a year he didn't contend for the title. He had the best starting average in the field by a full position, 4.31, led the most laps in the field, 351, and most notably upped his oval game as he finished all six oval races and scored a dominant, pivotal victory at the season finale at Fontana.
3. Simon Pagenaud
Pagenaud's qualifying left something to be desired (11.5 average, with a rough first five races) but other than that, the Frenchman was firmly best outside the established "power teams" of Penske, Ganassi and Andretti Autosport. Frankly if he and/or Justin Wilson had that level machinery, it would be hard for most of the rest bar Dixon and Power to keep up.
Outside of a DNF in the season opener at St. Petersburg that almost knocked him off the radar, Pagenaud blended consistency and brilliance in the remaining 18 races. He won twice, surviving both attrition-filled debacles in Detroit Race 2 and Baltimore, and added seven other results of sixth or better. He was no worse than 13th in any other race outside St. Pete. Consider him a championship contender – probably Honda's best shot – in 2014.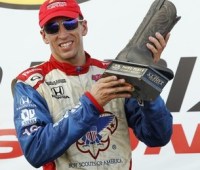 4. Justin Wilson
Wilson was the same way in maximizing his equipment, exceeding his car's potential on a near-regular basis and hassling the regular front runners on a consistent basis. The chemistry of having a second straight season with engineer Bill Pappas at the Dale Coyne Racing team was obvious from the get-go and Wilson quietly hung around and got the results the first half of the season.
Team and driver were even better in the second half and were unfortunate not to bag a victory – same as his three-weekend teammate Mike Conway did in Detroit. Justin was also unlucky to have been hit and injured at Fontana, but hopefully it's not a setback and we'll see the lanky Englishman back to his winning ways in 2014.
5. Helio Castroneves
Considering he nearly won the title, you might be surprised to see Castroneves so far down this list in fifth. Why, perhaps? The epitome of consistent but never truly great, in the sense others ahead of him either blitzed the field on one or more occasions or regularly outperformed their machinery. Or did both.
Where Power always seems to extract the max and then some, Castroneves has become a more methodical driver in letting the results come to him, rather than pushing for them. He's needed to throttle back after an erratic 2011 season where he seemed to hit everything but the pace car, and went winless for the first time since he joined Team Penske.
And until Houston, that strategy worked perfectly. He led the points for 10 straight races on the strength of that consistency and finishing every lap. But the mechanical woes struck him in back-to-back races and that proved his undoing. The other thing that hurt? Of his six top-five finishes, five came in the first nine races, with only one in the last 10.
When he had nothing to lose, as was the case at Fontana or early in the year at Texas, he was brilliant; sadly, those great performances were all-too-few in a year where "very good" simply wasn't good enough. Even had he won the title, I still would have probably only placed him third or fourth on this list.
6. Marco Andretti
7. Ryan Hunter-Reay
There was little to separate either of the next two on my list, Andretti Autosport teammates Marco Andretti and Ryan Hunter-Reay. Consider if the top 10 was done after the first half, they may well have been 1 and 2.
But an absolutely abysmal second half plagued the entire Andretti team; it's as if a lightning bolt struck the team after its front row lockout at Pocono and sent them into an irreversible tail spin of bad luck.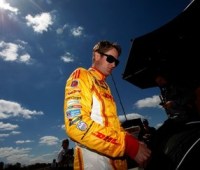 Andretti's luck was much the same, except his bad luck struck on ovals. He reassessed his priorities in the offseason, working with a driver coach and altering his driving for road and street courses, moves that paid dividends. He should have won Milwaukee and Pocono but the races he did finish, he finished well. He ended with 15 top-10s and fifth in points. It was a career year, yet one that could have been even better if a few breaks went his way.
Hunter-Reay drove superbly in his two wins at Barber and Milwaukee and was due a third at Iowa after one of the drives of the season from the rear of the field. Street course results proved his undoing with only two results better than 18th in the nine street races. Those hurt and negated what was the second-best starting average all season, 5.3.
8. James Hinchcliffe
Hinchcliffe I'll place eighth because he was rarely as outright fast as Hunter-Reay or Andretti on most occasions, but he also bore the team's bad luck in the first half of the season. It was a yo-yo of a year – win at St. Pete, followed by consecutive early race DNFs in Barber and Long Beach, dramatic win at Brazil, invisible at Indy, dominant at Iowa, wrecked first corner at Pocono – you get the point.
The second half brought at least a modicum of consistency with six top-10s in the final eight races, and the only two he didn't was when adverse mechanical issues struck him on the grid at Toronto Race 2, and Houston Race 1. Additionally, it was commendable how well he managed to keep his cool on track while dealing with the pressure of being one of IndyCar's two marquee free agents, before deciding to re-sign with Andretti. Make no mistake this was a better season for him than in 2012, and he can only get better for 2014.
9. Sebastien Bourdais
10. Charlie Kimball
There was little to separate Bourdais and Kimball, as well, who I've placed in the last two spots ahead of Franchitti and Kanaan. You presume big things from Franchitti and Kanaan and relatively speaking, you expect less from these two given their equipment or experience level at their disposal.
Bourdais was excellent the second half of the year, and like Wilson desperately unlucky not to have secured a win, which would have been Dragon Racing's maiden victory. The engineering switch to Tom Brown from Neil Fife paid immediate dividends both in qualifying and in the races. Yeah, we remember his podium trophy drop at Toronto, but my word it was great to see the Bourdais of old back. Three podiums included his near miss at Baltimore, and the outstanding ride at Fontana for his Dragon swan song. He had the best car in Champ Car with Newman/Haas but this was the best case of anyone in the field exceeding their machinery level – look at teammate Sebastian Saavedra's season for a comparison.
Kimball finished just behind Bourdais in second half points (237 to 234, fifth and sixth most in the field the last nine races) and was arguably one of the year's most consistent performers. Indeed he finished the most laps – 2,397 of a possible 2,433 – in the field. His methodical development included trips to the Firestone Fast Six on all three road courses, 10 top-10 finishes, and dynamic drives on four occasions: Barber, Pocono, Mid-Ohio and Fontana. Too often Kimball has just been known as "that driver with diabetes" but his talents beyond the advertising and marketing were on full display this year. It was a welcome sight.
Honorable Mentions: Dario Franchitti, Tony Kanaan, Mike Conway
Of the rest, Franchitti and Kanaan probably merited a spot if they had maybe one or two more ­­­great drives. Kanaan's Indianapolis 500 win aside, he only had six other top-10 finishes, four of which were on ovals. He remains one of IndyCar's oval aces but his team's erratic performance on road and street courses, often in qualifying, left a lot to be desired.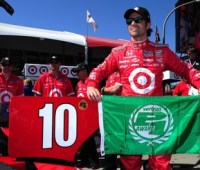 Meanwhile Franchitti went winless for only the fifth time in his illustrious 16-year career. He had the pace with four Verizon P1 pole awards, but for some reason or another couldn't finish the deal on Sundays. His best stretch was a run of five straight top-fours from Pocono through Sonoma, but he didn't look like winning any of them. He's never felt entirely comfortable with the new DW12 chassis and for the first time since he came back to IndyCar in 2009, was further in Dixon's rear view mirror than ever before.
I'd have to give Mike Conway the "part-time driver of the year" award, unofficial though that may be. The Englishman jeopardized his own career, resigning himself to criticism after deciding the risk of racing on ovals was simply too much for him. But RLL Racing gave him a shot at Long Beach – Conway promptly stuck a third, previously unraced car in the Firestone Fast Six – and we immediately remembered what a silent ninja assassin this guy is on a street circuit.
Dale Coyne snapped him up for the three doubleheader weekends as it turned out. Conway was simply sublime at Detroit. He did things with that previously unloved, geriatric second DCR Honda that didn't seem humanly possible around the 2.3-mile street course. The win and third-place were deserved results. He added three other top-10s from his other four starts, and when all was said and done had the second-highest point total in the field on doubleheaders. His 180 trailed only Scott Dixon's 263. There should be a bidding war to secure his services for the entire 12 road and street race schedule in 2014.