Less than a month after Dallara was charged with creating the next-generation Indy Lights machine, Andersen Promotions has released renderings of the IL-15, a joint effort between the chassis maker's Italian headquarters and American effort in Speedway, Indiana.
In preparation for the transition to the IL-15 in 2015, updates to the current Lights chassis – which has been in service since 2002 – will be added next year.
"The new Indy Lights Dallara IL-15 will be built to the highest safety and reliability standards that Dallara is known for and offer a modern stylish appearance that we know our drivers and fans will love," Dan Andersen, owner and CEO of Andersen Promotions, said in a statement.
"We've been working with Dallara to present a car that will perform well, provide the proper training required for drivers in our series as the final step on the Mazda Road to Indy ladder and still be exciting to look at. We believe the designers have accomplished all of our goals. Seeing it on the track next August in testing cannot come soon enough for us."
Compared to its bigger "brother," the IndyCar Series' DW-12, the renderings of the IL-15 foreshadow a relatively cleaner look. Most noticeable are the absence of rear wheel guards and side impact guards currently seen on the DW-12, as well as a roll hoop that looks a bit different.
Dallara CEO Andrea Pontremoli said that many innovations from the IndyCar Series such as driver protection devices and paddle-shifting will be carried over to the IL-15.
"Styling targets have been achieved so far, and we can't wait to start working together with all the other partners involved in the project," he said. "We will soon be ready to provide a modern, safe, reliable and stylish race car…We can't tell how excited we feel about this new cooperation, and we look forward to testing the brand-new car on the racetracks next year."
An engine partner for the new Indy Lights machine will be revealed at a later date. Additionally, partnerships have been confirmed with Cosworth on the electronics side and Performance Friction for brakes.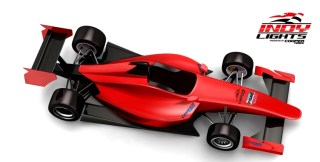 Photo Credit: Andersen Promotions/Dallara