Actor Paul Walker, known for his major role in the popular "The Fast and the Furious" racing movie franchise, has been confirmed dead following a fiery auto accident this afternoon in Valencia, California, north of Los Angeles.
According to NBC 4 Los Angeles, the Santa Clarita Valley Sheriff's Station said that deputies responded to the crash at 6:30 p.m. ET. When they arrived, a car was found on fire and was then extinguished by the Los Angeles County Fire Department.
Walker's official Facebook page issued the following statement:
Both victims were pronounced dead at the scene and the accident is under investigation at this time.
Universal Pictures, the studio for the "The Fast and the Furious," has also issued their own statement on the tragedy:
"All of us at Universal are heartbroken. Paul was truly one of the most beloved and respected members of our studio family for 14 years, and this loss is devastating to us, to everyone involved with the FAST AND FURIOUS films, and to countless fans. We send our deepest and most sincere condolences to Paul's family."
In addition to his work on the silver screen, Walker was also a part-time racer in real life. In 2010, he competed in the 25 Hours of Thunderhill endurance event. Walker was a business partner in the Always Evolving race team, which competes in the Pirelli World Challenge and other sports car racing series.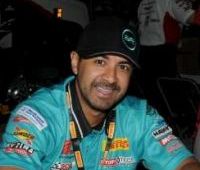 UPDATE, 10:00 a.m. ET, Sunday: Following various reports that released the second name of the driver broke last night, it has been confirmed that driver was Roger Rodas, 38, and the CEO of the Always Evolving auto performance shop. Rodas' Valencia-based shop hosted a charity toy drive/fundraiser for Typhoon Haiyan victims on Saturday afternoon, where the pair then left from after the event had ended.
Rodas just completed his rookie season in the Pirelli World Challenge and finished 13th in a field of more than 40 drivers in the series' GTS class, with a best finish of fifth place in Toronto in 10 starts. Rodas' philanthropic work included supporting Reach Out Worldwide, which Walker founded, and The Asomugha Foundation.
Walker Photo Credit: Eamonn McCormick/WireImage; Rodas Photo Credit: Mark Weber/PWC