NASCAR's worst-kept secret is finally official. Austin Dillon will move up to the NASCAR Sprint Cup Series full-time in 2014 with Richard Childress Racing, and he's bringing back the No. 3 to Cup for the first time since 2001.
No driver – not even Dale Earnhardt Jr. – has raced with the No. 3 in Cup since Dale Earnhardt Sr.'s fatal accident in the 2001 Daytona 500.
Still, the majority of this morning's press conference to confirm the news to say that after 13 years, it was time.
"I know in my heart that Dale Earnhardt is smiling down," Childress said.
Childress has held onto the number rights for the No. 3 since 2001, but hasn't been challenged on its use. Only family will have the opportunity to race it in NASCAR's top level, Childress explained.
"We held the number. I've been paying NASCAR for it. Bill (France) Jr. said we may have to give it up if someone wanted it, but we weren't challenged," Childress said. "It would have to be an Earnhardt or one of the Childress family that we'd put in the 3. Unless I get Jeffrey Earnhardt, it won't be in Trucks. For Austin to go out and do what he's did with that number proves it's time. The first time I put out the idea of running the 3, support was around 80-85 percent, then after a day, it went to 90. It was time. It was Austin's choice."
Dillon, too, understands the significance and heritage of running the 3. He has the opportunity both to create new memories and rekindle old ones.
"It's a huge responsibility," he said. "I've been put in by my grandfather, and he's been great to push me in right direction and handle things the right now. Everyone knows who made this number famous. We feel like, with bringing it back, and working with RCR, it is going to be special. I feel fortunate, and I want to run well. I want to set high goals and maintain those."
Dillon, 23, replaces Kevin Harvick, as Harvick leaves RCR after 13 years to move onto Stewart-Haas Racing. With the driver change comes the number change, back to 3 from the 29 Harvick ran for the entirety of his career there. Dillon will work with crew chief Gil Martin, who said he felt "a little bit of rejuvenation" with this news.
Dillon made sure to ask the right people, from Earnhardt Jr. through to RCR veterans like Danny "Chocolate" Myers and J.R. Rhodes, for their thoughts and approval. He earned it.
Alas, Dillon enters the seat as a champion. He won the 2013 NASCAR Nationwide Series championship, despite not winning a race, and also took home the 2011 NASCAR Camping World Truck Series title. In 13 Sprint Cup starts, Dillon has a best finish of 11th at Michigan in June 2013 in a fourth RCR car.
Dow Chemical and Cheerios will split the role of primary sponsor. Dow has been involved with many of NASCAR's products, but not directly as a primary sponsor. Cheerios enters its eighth year with RCR in 2014, and 17th in the sport in total.
Childress also confirmed Brian Scott, Ty Dillon and Brendan Gaughan will run in the team's three-car Nationwide program with all entries full-time. RCR will not field a truck in the NASCAR Camping World Truck Series, and its equipment has been sold to Gallagher Motorsports.
Childress later recalled a story about how Austin wanted the 3 to begin with, when he and Ty were first growing up.
"When Ty called me and said, 'We want to go racing,' that was the most expensive call I've ever had," Childress joked. "When I asked what number he wanted Ty said, 'I want the number 2, 'cause my dad drove it.' I asked, Austin, he says 'I want the number 3.' I say, 'Austin, you know it's Dale's number.' He knew it then. It made me proud."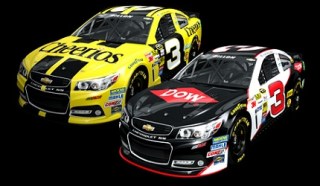 Photo Credit: Richard Childress Racing