The legendary Viper marque returned to the Rolex 24 at Daytona this year for the first time in more than a dozen years, and the new SRT Motorsports Riley-built SRT Viper GTS-R (pictured right, passing a PC class car during the night) brought home a solid third place finish in the GT Le Mans class.
It was a good spot for Viper to actually be disappointed with third place, as the polesitting No. 91 car driven by Dominik Farnbacher, Marc Goossens and Ryan Hunter-Reay was a class-winning contender before various issues including a power steering line failure cost it 10 laps.
When the Viper finished the Rolex 24, it featured glorious battle scars from racing. The dirt, grime and unkempt look of a car after 24 hours of pure, hard racing is something to treasure. And it looked like this, as I walked through the garage at the end of the race.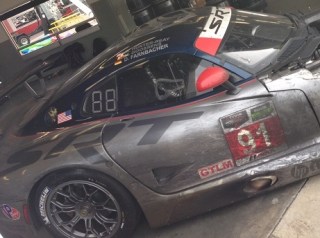 But to some people, art and the fact this is an actual race car, means nothing. What has happened this week at the Chicago Auto Show is nothing short of a disgrace, and makes you sick to see.
Here's what has happened to the car at various points this week, via sports car and former Formula Atlantic driver Ryan Lewis, who was at the auto show.
This really bothers me. Dick heads disrespecting others efforts. Going to post up here rest of the week. pic.twitter.com/6gBM7v6di3

— Ryan Lewis (@RyanLewisRacing) February 8, 2014
After just 2 days at the Chicago Auto Show. People suck. pic.twitter.com/9QUOTUegph

— Ryan Lewis (@RyanLewisRacing) February 11, 2014