The Monster Energy AMA Supercross bike series made its way to the Midwest this past weekend, heading to Indianapolis. KTM rider Ryan Dungey won Saturday night's race at Lucas Oil Stadium.
As part of the weekend, in a cross-promotion between IndyCar and Supercross, Honda organized a get-together with one of its Supercross riders, Trey Canard, and two of its IndyCar drivers, Josef Newgarden and Simon Pagenaud, at the home of its Indianapolis-based IndyCar simulator.
Canard has been unable to race this year due to injury but the Oklahoma native is on the mend and should be back shortly on his No. 41 Muscle Milk Honda. But he did get a chance to sample the simulator while in Indy, running at the Mid-Ohio Sports Car Course, to provide him a shot at driving a piece of four wheeled-machinery.
"It's different because you're not using your whole body. Having to control the whole feel (of the car) between your two hands is definitely different," Canard told MotorSportsTalk. "We've all driven different road cars before, and we've all had a steering wheel in our hands at some point. It's really fun. You feel the whole car moving underneath you, and turn it. It was awesome."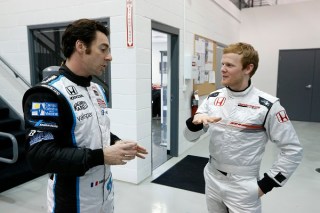 Before Canard's pair of runs, Pagenaud and Newgarden offered up some notes and pointers. Once they saw Canard actually take the reins of the simulator, the two rising IndyCar stars were impressed.
"He just did a great job. He impressed right away on the second lap," Pagenaud said. "He had a squirrely moment since he was not used to a steering wheel in his hands. But knowing how tough it is to catch it. He improved lap after lap, was aware of the environment, and knew how to exploit it. On a bike, there's not much in the way of braking. Overall, he was very impressive and up to speed quickly."
Canard described how he improved from his first session to his second one.
"First off I've never experienced anything like that before, having the downforce," he said. "My first one I had a really hard time with the braking. I broke at an angle rather than straight. I would come into the turns with using too much track. In the car, you learn quickly you have to brake straight, and then turn. The downforce is the thing I was able to deal with better the second time out."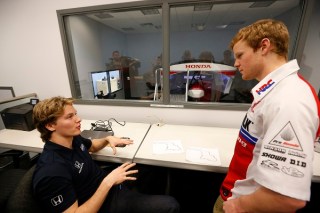 For Newgarden, having the chance to see a Supercross rider tackle an IndyCar was a cool thing to see. The Nashville native is a fairly big Supercross fan and tries to watch as many races as possible.
"It's a super fun sport," he said. "It's extremely competitive and it's actually very similar to IndyCar, where there are a lot of guys who can win every weekend.
"I love dirt bikes; they're really cool vehicles. I've always wanted to be a part of it, but I've never driven anything on 2 wheels. Maybe the fantasy of it is why I like it."
Newgarden did a good job of providing some behind-the-scenes shots via his social media accounts, as did IndyCar. More on this will likely come later this week.
UPDATE, Thursday, 9:45 a.m. ET: We have video! The topic shifts from simulators to scarves.