With his life and career dedicated to safety enhancements, the legend that is Bill Simpson didn't need to shift from motorsports into creating a safer football helmet.
But because the concussion threat is impacting the next generation of football players, it's a cause Simpson felt he needed to commit to based on his 40-plus years of motorsports safety innovation.
SG Helmets, or Simpson Ganassi, has come to life over the last several years as Simpson's research into the new industry has began.
The research began following a chance meeting between Simpson and then-Indianapolis Colts offensive line coach Tom Moore.
"I'd watched people got taken out on stretchers; that aspect largely went away from automobile races a long time ago," Simpson told MotorSportsTalk in an interview last week.
"As I looked into it, I'd see these kids out there that couldn't hold their heads up. It made me look into this whole deal. After I did some tests, we saw we could make huge improvements and bring (racing technology) to the athletic field."
Simpson spent roughly 1.5 years on research and development and a further 1.5 on field tests, with what he deemed to find "perfect results." Testing was conducted by Purdue University researchers, which found these helmets to be at least 50 to 100 percent better at attenuating forces reaching the head than any other helmet they studied.
The key to the SG Helmets is their weight, or rather, lack thereof at as little as 2 pounds per.
Created and built with a carbon fiber and Kevlar composite, the SG Helmets are half the weight but offer twice the level of protection. They're stronger, lighter and more absorbent than polycarbonate shells.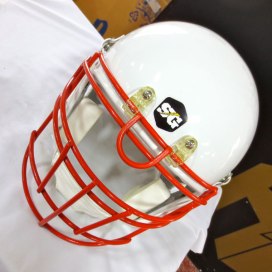 A number of high schools in Central Indiana have already begun utilizing these helmets, as have some NFL players. Ex-Colts and Green Bay Packers C Jeff Saturday switched and reported no further headaches, a unique experience after a 15-plus year career.
Center Grove High School in Greenwood, Ind. switched from 2012 to 2013. In 2012, the team reported 24 concussions; after the switch in 2013, the whole team had only 2 minor ones. Numerous parents have offered thanks for the new technology.
The Ganassi element of SG – Chip Ganassi is a minor partner in the company – stems from his own horrifying accident in a CART open-wheel race at Michigan in 1984, and the helmet technology utilized then that saved the legendary team owner from serious injury.
"I was at Ann Arbor hospital then with Chip's dad (Floyd), and the neurosurgeon wanted to know what that (helmet) was," Simpson recalled. "Without that helmet, he wouldn't have come to hospital; he would have gone to a mortuary. The guardrail hit him in the helmet."
Dr. Steve Olvey, who has spent his entire career on the front lines of racing and authored "Rapid Response" several years ago, praised Simpson's work and transition to these helmets.
"What Bill Simpson has done is put 40 years of safety innovation in manufacturing motor sports helmets into the most modern and innovative football helmet made today," Olvey said, via the SG Helmets website.
Comparing G-loading in football to auto racing is something of an apples-to-oranges comparison. But impacts in a racing accident could run anywhere from 75 to 80 G's (that amount times a driver's body weight) in 5-6 milliseconds.
There isn't a real number yet for concussions, but there is an estimation of 90 to 95 G's on football impacts over 6 milliseconds.
Simpson, who thinks this technology could eventually revolutionize the helmet industry, said the target for the next generation is key.
"I want to go after the 5-year-olds, so they don't have a head injury that's not repairable," he said. "The horror stories you hear now are scary. Guys in their 40s who have their lives upside-down, with anger and stress, simply from repeated concussions."
On Sunday at Auto Club Speedway in Fontana, Calif., Simpson was awarded The Justice Brothers-Shav Glick Award for his contributions to motorsports in California. Glick was a legendary automotive journalist for the Los Angeles Times, who passed away in 2007. The award is below, as Simpson accepts with Ed Justice, Jr.
Said Simpson, "I could think of a lot of people who have done a lot more in this sport; I'm doing just my job."