Members of the Robertson family, stars of "Duck Dynasty" and owners of the Duck Commander hunting brand that is sponsoring today's Sprint Cup race at Texas Motor Speedway, made a stop by the track's media center this morning.
Duck Commander CEO Willie Robertson and wife Korie, Jep Robertson, and "Uncle Si" Robertson were part of the group that spoke to the media – and it was "Uncle Si" that stole the show from the start as he walked in wearing a bright red, Evel Knievel-style jumpsuit.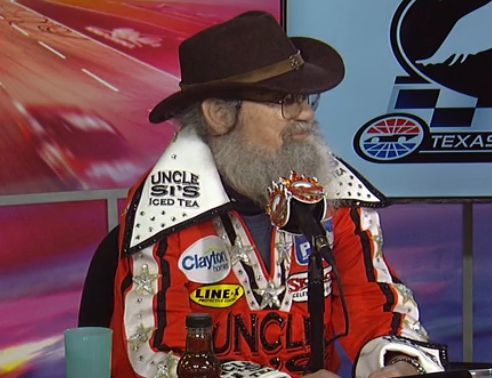 It's not quite a NASCAR-style suit, but it's got the corporate branding aspect down at least.
As part of the conversation, the Robertsons explained why they decided to put their brand on the race at Texas, saying that the Dallas/Fort Worth region has been good to them over the years.
"It's close to home and our brand says more than just duck hunting," Willie said. "It says family and being positive and a lot of things that we see in NASCAR – it's a family sport. We're tickled to have our brand associated with it."
Eventually, the conversation turned to the matter of which Robertson would make the best racer. While Korie playfully ribbed Willie for his lack of skill in lawnmower racing, "Uncle Si" indicated he'd be willing to use the chrome horn to impose dominance on the track.
"I used to be the demolition derby king, son, so you don't want to get on the track with me," he boasted. "…I'll put you in the wall and I'll put you in the infield."
But for today, the family will stick to pulling for Clint Bowyer, a former 'Duck Dynasty' guest who has multiple Robertson companies on his No. 15 Michael Waltrip Racing Toyota for this race.