Rain delays can lead to race fans doing strange things to pass the time.
This is one of them.
Today's Duck Commander 500 at Texas Motor Speedway has been delayed for a little over three hours now due to rain and subsequent track drying that has turned up "weepers" in the surface.
During the delay, one of the more prominent NASCAR-based humor accounts on Twitter, @TheOrangeCone, decided to come up with the #ReplaceTVShowTitleWithDanica hashtag:
And shortly afterwards, the bored citizens of NASCAR Nation (and perhaps an additional chunk of casual fans drawn to the hashtag's subject) made it trend on Twitter in the United States.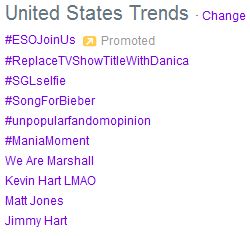 One part of me is not surprised at all at this development. The other part is really hoping the race gets going soon.
In any case, here's a few of the better submissions involving the hashtag from fans and media members alike…
https://twitter.com/TheMiniChad/status/452924151238385665