As founding member and lead singer of The Who, Roger Daltrey knows a thing or two about teamwork – working with a band and a stage crew to put together an off-the-hook show.
So when he saw Justin Wilson's Verizon IndyCar Series Dale Coyne Racing team up close and personal this weekend, as a guest of Honda to promote the Teen Cancer America organization, he took notice of the similarities.
"It's quite similar, really. I don't think people – unless you're a true race fan – they don't give enough credit to the teamwork," Daltrey told MotorSportsTalk in a Sunday interview at the Toyota Grand Prix of Long Beach. "Most of the races are won because the team works well. It's a complete effort. How these guys change a wheel in seven seconds or so, I haven't got a clue!"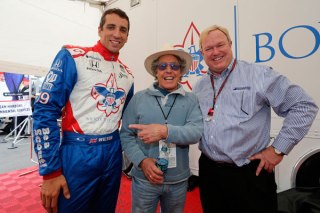 The Teenage Cancer Trust organization began in the U.K. and Teen Cancer America, co-founded by Daltrey and The Who bandmate Pete Townshend in 1990, works to raise both awareness and funding for teens (starting age 13) through to age 24 who suffer from cancer.
The logo appeared on Justin Wilson's car during the race. Wilson has had other charitable organizations (Dempsey Challenge, Clarky's Corner in 2013, among others) in the past, and this continued the story.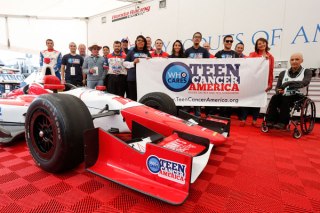 Daltrey headed to Long Beach this past weekend where besides the charity promotion and a Sunday morning press conference, he took up residence in a two-seater IndyCar with Mario Andretti for the race start.
"He is such a legend, and what a great looking guy for his age," Daltrey, 70 himself, said of the 74-year-old Andretti before taking the lap. "I'm sure he hasn't slowed down. I know for sure, being a passenger is not as easy as being a driver. You don't feel the balance of the car and get thrown about it."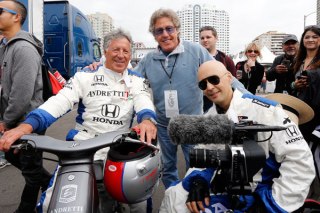 But back to the charity: Daltrey explained a bit more about the gap for teens and where Teen Cancer America fits into the equation.
"By isolating the group to have them (teenagers) as a separate group, you will be able to focus the medicine better," he said.
"We've had some things in Britain … for instance we had a 19-year-old diagnosed with a specific leukemia. Because he was in one of our units, they thought they'd try a pediatric therapy on him, and they're now getting a 25 percent improvement on curing that leukemia.
"There's all those benefits associated with isolating. A big one is there's less burnout for the nurses. They burn out quite a lot. Training them can be very expensive. If we can cut the burnout rate by about 3 percent, that's huge savings. Huge."
For Daltrey, this was also a chance to re-introduce Hernan Berangan's story. A two-time cancer survivor, Hernan begins a tour through all 50 states as part of a Road to Rebellion tour.
"It's amazing that anybody is listening to us and that you guys are listening to us," Berangan said. "When I was 15 and knew that something was wrong with the system, all I could translate that to was anger. What I do is I should video profiles of teen cancer patients and I sit and I listen to them for a few hours and turn that story into something digestible for them and us."
Daltrey concurred: "For a start he's a great filmmaker. There's a film within a film here. Every state he goes to, he makes the media know he's there. There's a lot of mileage in this. It's a very interesting piece of work."
Beyond the organization, Daltrey discussed what he enjoyed about racing and the event of Long Beach himself.
He had attended one past British Grand Prix, spending the day with Sir Jackie Stewart. "Those were a different class of driver!" he said. He added that he had a chance to spend a day at the Lotus test track in England earlier in his life.
Daltrey said he'd love to try a modern Formula One car, noting its high levels of technology.
Asked how he'd compare a race weekend to a concert, Daltrey said it's not dissimilar.
"It's pretty much the same actually… really a bit of the human condition," he said. "It's kids, getting on with each other. Festivals are a big thing. But I'll tell you this band here is a lot louder here!"
He said both the music business and race teams operated with military-level precision.
"The truth is, now the way the music business is, we do run like a military operation," he said. "It's incredibly detailed and specific. If they'd have sent the 'roadies' into Iraq, the war would have been over in about a week! They would have been having parties instead of fighting each other!"
Lastly, he spoke very highly of the Long Beach weekend itself.
"I'm amazed at how far Long Beach has pulled itself up. Coming here in the early days, it was a pretty rough area. It feels fantastic."
It was also fantastic to see a rock legend/Hall-of-Famer with eyes wide open, thrilled by one of North America's greatest racing events, and be as down to earth as he was.