A tweet from Helio Castroneves' official account after the Toyota Grand Prix of Long Beach has put the three-time Indianapolis 500 champion on probation through June 30.
According to INDYCAR, Castroneves violated Rule 9.3.8 of the Verizon IndyCar Series rulebook regarding social media policy.
The tweet in question criticized Race Control for not penalizing drivers during the race and featured a thumbs-down symbol in the center of the series' logo. It was promptly taken down but Trackside Online managed to capture it before that point: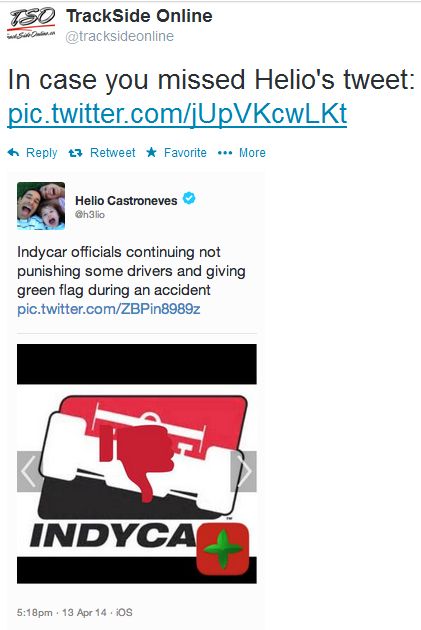 Castroneves later tweeted that it was his sister, Kati, who had sent it out originally. He then apologized for the matter…


And soon after, Kati did the same on her own account…

It's not the first time that Castroneves has gotten in trouble for social media mishaps.
Three years ago in the IndyCar race at Twin Ring Motegi, Castroneves was penalized for passing J.R. Hildebrand in a local yellow zone on the final lap, and was knocked from seventh to 22nd at the finish.
That annoyed Castroneves, who called INDYCAR president of competition and then-chief steward Brian Barnhart a "circus clown" on his Twitter account. He was fined $30,000.