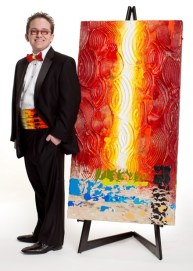 The Compass360 Racing team will make its first 2014 start in the Pirelli World Challenge Championships this weekend at Barber Motorsports Park with a two-class attack and for a great cause.
C360R works with Children's Tumor Foundation (CTF) Racing4Research to promote awareness, research and seek to find a cure for neurofibromosis (NF). It's a common yet under-recognized genetic disorder that can cause tumors to grow on nerves throughout the body. NF affects one in every 3,000 people, more than cystic fibrosis, Duchenne muscular dystrophy, and Huntington's disease combined.
CTF "Art Cars" will appear in both the PWC GTS and Touring Car (TC) classes this weekend, with the livery design inspired by a signature piece of artwork from highly-acclaimed artist and NF Hero Jeffrey Owen Hanson.
Team pro driver Ryan Eversley, a two-time race winner in PWC TC, will be in the team's No. 70 Subaru WRX-STi this weekend in GTS while team principal Karl Thomson will drive the similar liveried No. 72 Honda Civic Si in TC.
A third car, the No. 71 Honda Civic Si, is entered for Michael DiMeo in TC. The GTS field has 28 cars and entered and TC 6 this weekend.
More information is available via the team website. In the meantime, the cars look good.