One of the undercards on the Toyota Grand Prix of Long Beach weekend was the Formula Drift (a.k.a. FD) hosted the Motegi Racing Super Drift Challenge, where drivers get sideways in drifting to end the days of Friday, Saturday, and Sunday on Turns 9-10-11 of the 1.968-mile street circuit.
The actual FD event occurred a week earlier, April 4-5 and won by Chris Forsberg, but the Super Drift Challenge provided a showcase for FD drivers to bring their A-game on the actual TGPLB weekend.
And for grins and giggles, they invited two Verizon IndyCar Series drivers to check things out from the passengers' seat. Enter Honda IndyCar aces Josef Newgarden and Simon Pagenaud, who have been doing a number of things in tandem this year already (also spent time with HPD simulator and motocross rider Trey Canard earlier in 2014).
For Newgarden, there was symmetry to sync up with Michael Essa, the 2013 Formula Drift champion. Essa's BMW M3 produces more than 750hp – for reference, a tick more than Newgarden's IndyCar in road or street course configuration – and was built by his shop, Essa Autosport, in Anaheim.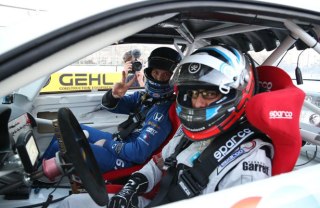 The pair met through Brett King, who paints both of their helmets, at an open house at Brett King Design. The drift car was there, Mike and Josef got to talking, and Mike offered to take him for a ride during the practice session. The practice session was for Saturday night's Motegi Super Drift Challenge.
Once Newgarden's ride was complete, Pagenaud took his turn in Essa's passenger seat. It was a wild ride, as well.
They went onto interesting weekends in the IndyCar race – Newgarden was on pace for a podium before he got by Ryan Hunter-Reay. Meanwhile, despite getting hit by Will Power, Pagenaud rebounded to fifth.