The i's are dotted and the t's crossed on James Davison's Indianapolis 500 program, which was officially confirmed as KV Racing Technology's fourth entry on Saturday. It's a busy news day for the team as Townsend Bell's livery was revealed earlier in the day and Sebastian Saavedra starts on pole for Saturday's Grand Prix of Indianapolis.
The 27-year-old Australian will be in the No. 33 Always Evolving Racing/KV Racing Technology Chevrolet; Always Evolving Racing, Los Angeles-based, helped to sponsor Davison in his two Verizon IndyCar Series starts in 2013. The team also competes in the Pirelli World Challenge and Rally America National Championship series.
A garage sign with Davison's car number and the colors, expected to be in the Always Evolving Racing teal, white and black, was hung in Gasoline Alley Saturday morning.
"It's been my childhood dream to race in and win the Indy 500," said Davison. "I have had to work very hard and persevere to get here with KV Racing Technology. Finally, it's arrived and I have a fantastic opportunity with the reigning Indianapolis 500 champion team. I feel I have the best of chances to do well."
Re: the 33, Davison is the 33rd entrant and an Indianapolis 500 rookie, and he chose the number for that symbolism.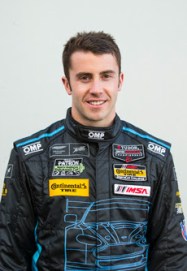 "I've got to thank KV Racing Technology, the guys at Always Evolving Racing and all of my other supporters for making this dream come true," Davison added. "I personally chose No. 33 for the car, knowing how important it was for the event to have a full field. I thought it was an appropriate salute and something I will always be able to look back at and know why I was No. 33. I certainly don't plan to qualify 33rd or finish 33rd, but it is a nice tribute."
Added Erik Davis, Always Evolving CEO, "People constantly ask me about the name Always Evolving. Being part of history at the Indianapolis 500 is the most literal explanation of why we carry that brand. We will always seek new challenges, find opportunities to compete, represent our sponsors with integrity and work to drive new fans to motorsports. Always Evolving is thrilled to be involved with KV Racing Technology and we see this as an incredible opportunity for our entire organization."
Davison is expected to be on a short program and will need to complete his Rookie Orientation Program once he hits the track; the team is shooting for next Thursday morning as his inaugural running.
Full practice begins Sunday for the race.
Davison's TUDOR United SportsCar Championship team, TRG-AMR North America, released a rendering of Davison's Indy 500 car. It's below.