This was one post I wanted to hit in the immediate aftermath of the Grand Prix of Indianapolis but between some of the other story lines, it waited a couple days.
But for the Novo Nordisk and NTT Data Chip Ganassi Racing teams, the GP of Indy day was a needed result for both Charlie Kimball in the No. 83 and Ryan Briscoe in the No. 8 Chevrolet.
Both drivers sought to break through earlier this year and on Saturday, they ended fifth and sixth, respectively for their best finishes of the young season. And yet both could have been better if not for tough breaks.
Kimball had a shot at the podium if the Honda runners who ended 1-2, Simon Pagenaud and Ryan Hunter-Reay, needed to pit for a splash of fuel.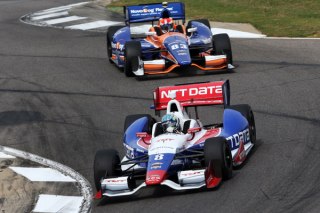 "My engineer, Brad Goldberg, and my team manager, Tom Wurtz, gave me the right pit stops at the right times and just let me go race the car," Kimball said. "There were so many different strategies going on and all of those yellows made it challenging for our strategy because we had to run hard towards the end just to get back up into the top five after that last stop."
And Briscoe had a drive-through penalty for a pit safety violation assessed earlier in the race, but he was able to rebound.
"It's a really exciting result for us," Briscoe said. "I wasn't confident after we got the penalty in pit lane early on in the race, but we had a couple of really strong restarts and the car just came to us as the rubber went down on the track. The No. 8 NTT DATA Chevrolet just got better and better as we went through the race."
Both made huge points gains, with Kimball jumping from 23rd to 16th, and Briscoe from 16th to 11th.
Keep an eye on these two the rest of the month. Briscoe and Kimball are both in the "sneaky good" category at IMS – Briscoe having won the 2012 Indianapolis 500 pole and Kimball having finished in the top-10 each of the last two years.
They worked together as teammates for the first time at this race one year ago, and with the resources of the entire Chip Ganassi Racing organization (the Target pair of Scott Dixon and Tony Kanaan are involved in debriefs) and Chevrolet's record on fuel mileage the last two years, here's two guys who would not surprise if they wound up in victory lane on May 25.