When all was said and done, the underdogs slayed the giants yet again when it came to those who made the Fast Nine shootout for Sunday's second round of qualifying for the 98th Indianapolis 500.
The breakdown of teams that made the Fast Nine shootout? Three Andretti Autosport entries, two Ed Carpenter Racing entries, two Team Penske entries, and a single entry from Schmidt Peterson Hamilton Motorsports and Sarah Fisher Hartman Racing.
Among the teams that didn't? Neither Chip Ganassi Racing (four cars, plus the fifth affiliated entry for Dreyer & Reinbold Kingdom Racing) nor KV Racing Technology (four cars) – the teams that have won the last two Indianapolis 500s – got anywhere near the Fast Nine.
Ed Carpenter was fastest after the first run and the defending Indianapolis 500 pole sitter has achieved the maximum number of possible points today, after a second run within the last hour and a half of running was the day's fastest at 230.661 mph.
But the drama came down to the final couple spots in the Fast Nine depending on whether teams opted to withdraw times and need to set a flier from Lane 1 (the express lane), or make another qualifying attempt from Lane 2 and leave their original time vacant.
The final 15 minutes saw SFHR's Josef Newgarden break in and ECR's Indianapolis-only second driver, JR Hildebrand, hold on, while 2012 Verizon IndyCar Series champion Ryan Hunter-Reay's Andretti team took the withdraw their time option and they were not able to break back into the Fast Nine.
Kurt Busch was ultimately 10th after feeling like he had given everything he could, although he needed to leave for Charlotte before making another attempt in the final couple hours.
Here's a full breakdown of the qualifying runs. Points will be awarded from 33 down to 1 depending on the positions from today; this also determines the pit positions for the Indianapolis 500, held May 25.
The actual run for the pole, with those Fast 9 participants, as well as the remaining spots 10-33, will be determined tomorrow. Teams have until 7 p.m. ET tonight to enter an extra car, and that appears unlikely.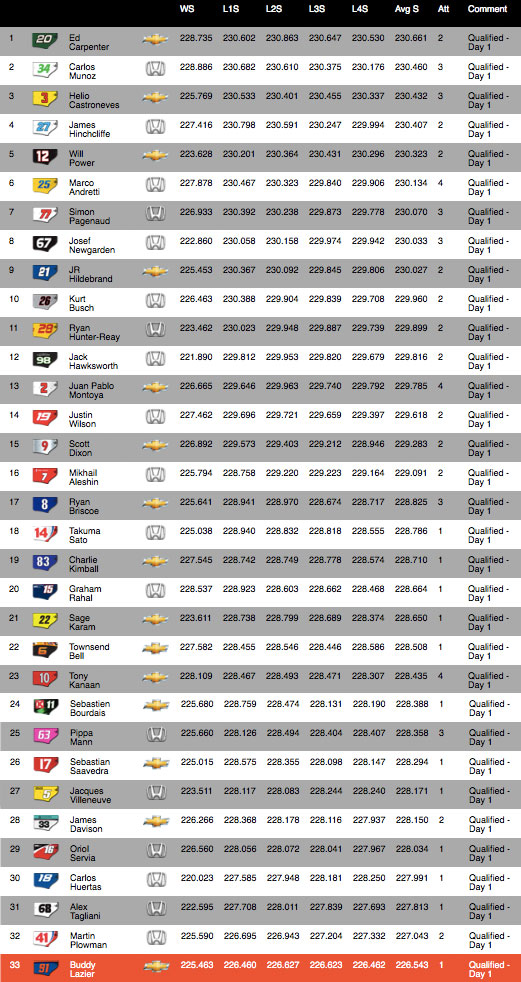 Follow @TonyDiZinno