Every year, Townsend Bell puts together a one-off Indianapolis 500 program. The 2014 edition will be Bell's eighth '500 appearance, after making his debut in 2006 and running every year consecutively since 2008. This year, he returns to KV Racing Technology, the team where he posted his career-best '500 finish of fourth in 2009, and where he seeks to improve upon it this year. The NBC Sports Group Verizon IndyCar Series analyst is able to provide both a driver's an analyst's perspective in the field. For part one of this daily series through this week, we look at how he put his 2014 deal together.
—
Preparations for the next year's Indianapolis 500 begin pretty much the day after the current year's Indianapolis 500 takes the checkered flag.
And for Townsend Bell, erasing what was a frustrating 2013 attempt in the race is the goal.
In a second Panther Racing entry, Bell started 22nd and finished 27th – he did have one moment where he made an excellent save exiting Turn 2, after a lurid slide. But otherwise, Bell's 2013 '500 experience was the story of new partnerships.
It was the first time he'd raced the '500 in a Chevrolet, after running with Honda in all six of his prior attempts. It came in the recognizable yellow-and-blue Sunoco colors, matching the livery for DreamWorks Animation's Turbo, which premiered in theaters later that year.
And it was the first time we got introduced to his yellow with blue polka dot Robert Graham hat.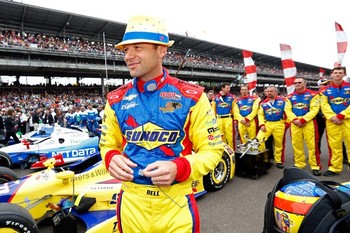 It's a wonder the hat didn't gain its own Twitter account, but it was one of the most memorable parts of Bell's 2013 experience. It even made it to the Indianapolis 500 banquet, where Bell had a suit and rocked the hat while giving the speech.
This year, with support from Robert Graham NYC, now the primary partner on the No. 6 KV Racing Technology entry, and additionally from Royal Purple and Beneteau USA, Bell is back for his second stint with the team where he found his greatest Indianapolis 500 success.
As a one-off entry, it's difficult to succeed, but having the partners behind makes the effort possible.
"I've been fortunate to have had some great supporters through the years," Bell told MotorSportsTalk. "We're all linked… me, my sponsors, and we're all linked by a common thread of being driven by the dream to win the biggest race in the world. Great people jump on board to pursue that. Everyone's been handpicked for the job."
The team's not afraid to have fun – witness Bell's Robert Graham checkered driver cap now adorned by every member of his No. 6 KVRT crew.
@TownsendBell99 Who wore the hat better? Your or @KevinLee23? pic.twitter.com/i5bZVmTb9k

— Peter Leung (@BaronVonClutch) May 18, 2014
The livery itself has gotten people talking, with a zipper down the middle to reveal a burst of speed. The inside of the car, wrapped in the color explosion, is also something to behold.
"@IndyCamping: "@TownsendBell99: Ja'll feel ? pic.twitter.com/BlQbJplSnT" Where's the hat?!?" Tomorrow — Townsend Bell (@TownsendBell99) May 10, 2014
"In terms of getting partners together, I'm lucky to have a group that believe in me and want to have some fun at the same time," Bell says. "We've had a great time entertaining, hats and things like that. It's been fun. But we're here for one main reason."
That reason is, from a joke on Twitter, "dealing with lactose intolerance" – in reference to hoping to drink the milk Sunday afternoon.
Monaco Grand Prix before the race or the Charlotte 600 after the race?"Monaco but plan to be too busy after dealing with lactose intolerance

— Townsend Bell (@TownsendBell99) May 18, 2014