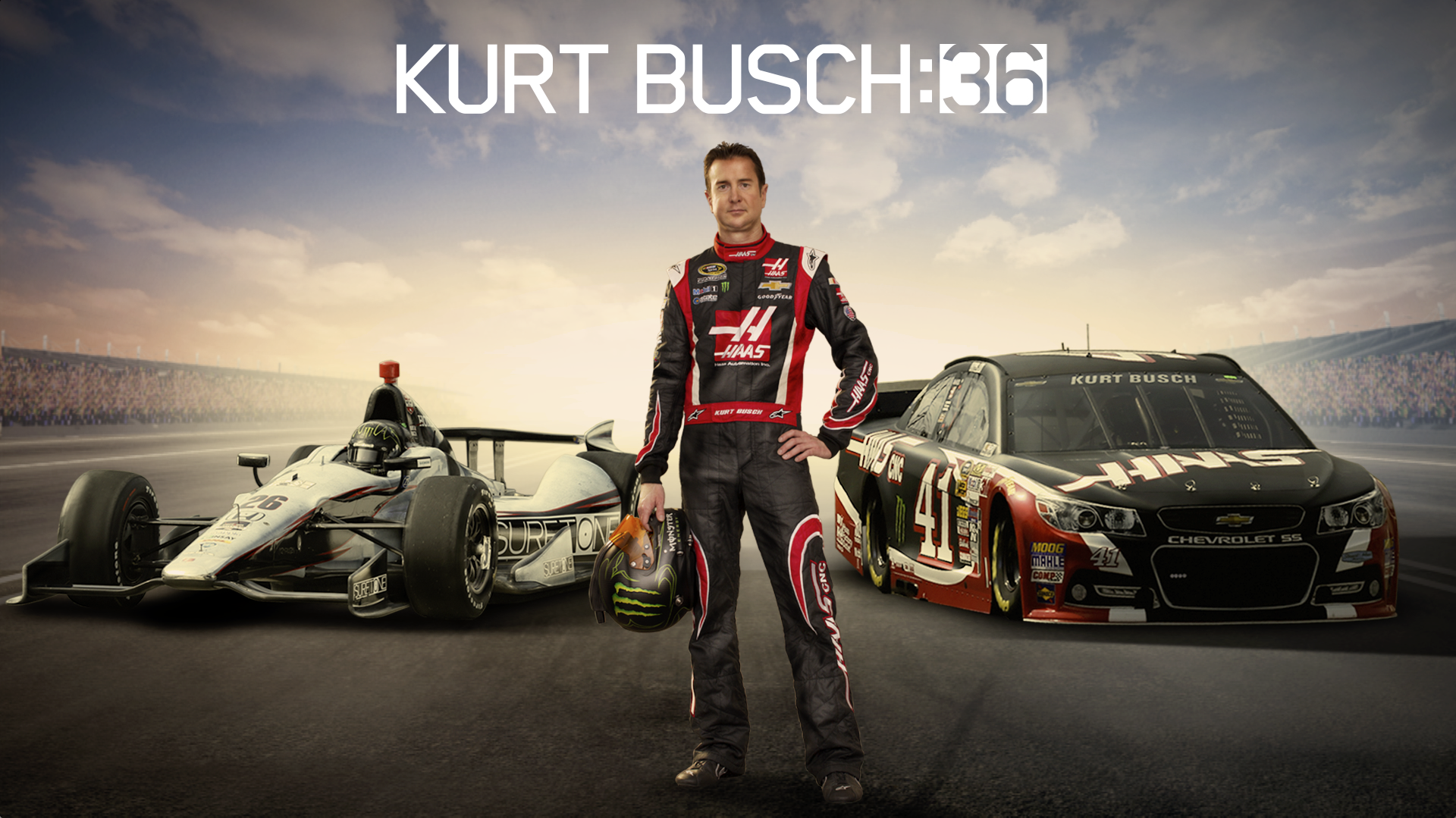 NBC Sports announced today that it will present an all-access look into the intense preparation, 200+ MPH competition and extreme logistics surrounding Kurt Busch's upcoming attempt to win IndyCar's famed Indianapolis 500 and NASCAR's Coca-Cola 600 on the same day.
The 30-minute special, featuring in-depth interviews, on-track footage, team communications and a seat right next to Busch throughout his races against drivers from two elite series, pulsating travel conditions and the limits of his own endurance, will debut on Sunday, June 8, at 4:30 p.m. ET on NBC.
A 60-minute "director's cut" of KURT BUSCH: 36 will air the following day, Monday, June 9, at 11 p.m. ET on NBCSN.
NBC Sports' Emmy Award-winning NASCAR production team, led by Executive Producer Sam Flood, teams with the Emmy Award-winning NASCAR Productions to create KURT BUSCH: 36. The program furthers NBCSN's successful line of ":36" documentaries that chronicle the 36 hours that cover the lead-up, completion and aftermath of a major sporting event. KURT BUSCH: 36 takes the series to another level as it encapsulates two races.
"This attempt at 'The Double' ranks among the most unique undertakings in all of sports, because it involves so many factors and storylines, each of which will play out over the course of two iconic races," said Flood. "We're looking forward to chronicling the drama and excitement that will build throughout Kurt's attempt at history."
The special marks another NASCAR-related programming highlight for NBC Sports Group since reaching an agreement for NASCAR Sprint Cup and Nationwide Series racing last July. NBCSN launched its daily 5:00 p.m. ET motorsports show, NASCAR AMERICA, in February following the 2014 DAYTONA 500 and coverage of the Sochi Olympics.
"Kurt Busch's attempt at 'The Double' is a challenging endeavor that speaks to the highly competitive spirit of NASCAR drivers," said Tally Hair, Managing Director, NASCAR Productions. "The special will provide fans with an exclusive, up-close-and-personal look into what will be a grueling but amazing story for Kurt Busch and the racing world."
Busch, a 25-time NASCAR Sprint Cup Series winner, is currently training to become just the fourth driver to attempt "The Double" by racing in both IndyCar's Indianapolis 500 and NASCAR's Coca-Cola 600 in the same day. This is a feat so grueling that only 3-time NASCAR Sprint Cup Series Champion Tony Stewart has ever successfully completed all 1100 miles.  No driver attempting to race "The Double" has ever won either event on the day of the attempt.
Busch confirmed that he will drive a Dallara-Honda fielded by Andretti Autosport at Indy on May 25. Upon completion of the Indianapolis 500, Busch then immediately flies approximately 430 miles to Charlotte, N.C. to fulfill his full-time job of driving the No. 41 Stewart-Haas Racing Chevrolet in NASCAR's longest race of the year.