On Thursday at the Indianapolis Motor Speedway, the new Dallara IL-15 chassis for the Indy Lights Presented by Cooper Tires series was revealed.
If you're a fan or ardent follower of the Indy Lights series, it might be hard for you to believe this day is really here, too. But it is.
The new IL-15 chassis replaces the Dallara that has been on the Indy Lights grid since the series' relaunch in 2002; next season, 2015, marks 30 seasons since the first year of Indy Lights in 1986.
Delayed several times as the Indy Lights series went through a change in operation – while it still falls under the INDYCAR umbrella, the operations are now done by Andersen Promotions (was announced last July in Toronto), Dallara was picked as the new chassis partner, a rendering was unveiled in November, AER was confirmed as engine supplier, and today, the future has officially arrived.
Several key partners – Andersen Promotions' Dan Andersen, project leader Tony Cotman and Dallara CEO Andrea Pontremoli – among others were all on hand for Thursday's reveal.
Here's the technical details:
DALLARA IL-15 CHASSIS
Top Speed: 200 mph
Design: Carbon chassis and bodywork
Weight: 1400 pounds
Length: 192 inches
Width: 76 inches
Transmission: 6-speed semi-automatic
AER-P63 ENGINE
Engine: 2.0 liter, turbocharged four-cylinder
Horsepower: 450 HP plus 50 HP Push-to-Pass
Design: All aluminum
Weight: 230 pounds dry crated
Features: Carbon plenum, carbon inlet runner and trumpets and "drive-by-wire" throttle control
Electronics: AER with full active-knock control, ignition-angle learning, advanced boost control and
integrated gear-shift strategies
TIRES Slick/rain tires co-branded COOPER/INDYLIGHTS as manufactured by Cooper Tires
WHEELS Patented Motegi aluminum wheels with techno-mesh design
ADDITIONAL COMPONENTS
• Cosworth looms, data logger, dash, display and sensors
• Dynamic dampers
• Life Racing paddle-shift kit
• Tilton carbon clutch
• PFC brakes
Note: 2014 carryover items include gearbox internals (including ratios), dampers and springs
Another bit of news that came out of the announcement was that the 2015 Indy Lights champion will be confirmed for three 2016 Verizon IndyCar Series races, including the 100th running of the Indianapolis 500.
Tristan Vautier and Conor Daly will handle the majority of the testing, which officially begins August 5 at the Mid-Ohio Sports Car Course, just after the Verizon IndyCar Series race there on August 3. A shakedown in Italy will occur July 15.
Here's three more studio shot pictures of the car, released by Andersen Promotions/Indy Lights.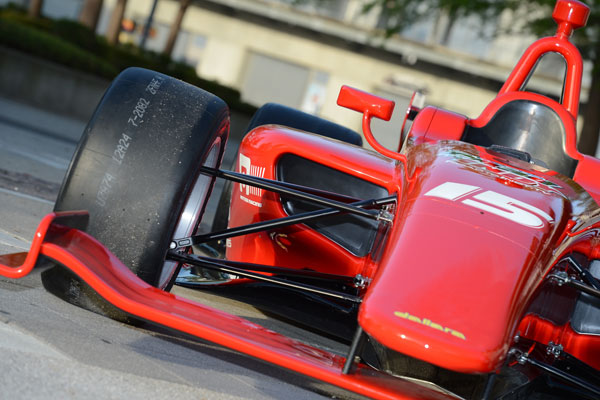 I spoke with Andersen, Cotman, AER's Rob Dyson, Vautier, and Pro Mazda points leader Spencer Pigot after the announcement. Full analysis on the new car will follow later this week on MotorSportsTalk.