What was a test case for the "reinvigorated" month of May, and the new business strategy employed by the new powers-that-be at 16th and Georgetown, has worked.
The 2014 edition was a vibrant, more buzzing Indianapolis Motor Speedway for more days than normal, or at least more than in recent previous years.
Here's a quick synopsis:
GRAND PRIX OF INDIANAPOLIS WEEKEND
As I wrote at the time, you needed to take a moment to acclimatize yourself to the weirdness. IndyCars… turning right? In high-downforce road course configuration? At Indy? "Sacrilege!" you say, right?
Well, yes, it was weird the first time I stepped out onto pit road to watch. But once you got through the first couple laps watching, and it began to sink in, you started to get the sense this felt like a proper race weekend.
And on race day itself, that message was brought home. Estimates have ranged from as low as 25,000 to up to 50,000 – the truth lies somewhere in the middle, probably closer to 45,000 – but the bottom line was that the mounds and grounds were filled with race fans anxious at the prospect of something new. When you start to add up the dollars of that first round of spectators, with a number easily 10 times more than the same weekend last year, it all starts to make sense.
INDY 500 QUALIFYING WEEKEND
Opted to watch this one on TV from home. The latest evolution of something that's changed more times than I can remember since 1996 was created as a made-for-TV type of format, and by that standard, it worked.
Each of the two days generated a ratings number higher than the season-opening St. Petersburg race, and the Sunday strategy to bring Dario Franchitti into the booth to call the Fast Nine shootout was a stroke of genius.
The crowds? Certainly less than GP weekend. And the format of which lines cars were going in, and how many points each day generated were, admittedly, a bit confusing.
I'm not one to say that you ditch the two-day format just yet. If another type of entertainment purpose is brought into the track for this weekend, as it was for the following weekend, it could provide added value beyond just the on-track running for qualifying. At the very least, reducing the confusion for media and fans on the format should be the goal for 2015.
THURSDAY/CARB DAY/SATURDAY
There was a healthy crowd in attendance outside the Pagoda for the new Indy Lights car launch on Thursday night, with fans watching as well beyond Mazda Road to Indy drivers, teams, participants and stakeholders.
Come Friday, Carb Day, the perpetual ritual of drunk Hoosiers waltzing all over the grounds continued true to form. There was the usual mix of great on-track action (practice, Freedom 100, Pit Stop Competition and Stadium Super Trucks) and off-track entertainment for the majority of IMS-goers (Sublime and Sammy Hagar concerts). I'll admit I was a bit disappointed that there wasn't as high a volume as normal of crushed beer cans on my annual Carb Day walk from the media center to the media parking lot, but that meant IMS was on its game in terms of cleanup.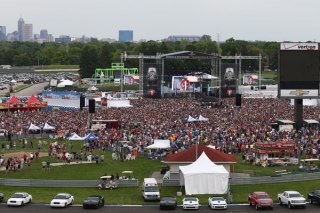 To Saturday, and while the usual public drivers' meeting and driver autograph sessions were their usual hits, the biggest change came in the afternoon with the Jason Aldean concert bringing in the greatest number of new, paying fans. Leaving on Saturday around 4:45 or so, the grounds were packed.
Figure if you had at least 60,000 for Carb Day and maybe another 40 to 50,000 there on Saturday, and those are two huge additional numbers in terms of extra ticket sales and revenue from concessions.
We haven't even got to the new "glamping" – or glamorous camping – that premiered this year. Judging by this piece from USA Today's Chris Jenkins, that was a hit too.
RACE DAY
Indianapolis 500 race morning is the perfect example of "if it ain't broke, don't fix it."
The morning buildup, with the Monaco Grand Prix on TV in the media center, then all the pageantry from the bands, to the Gordon Pipers, to the old cars, to everything else just takes your breath away.
There's the chills from being down on the grid mere hours before 33 men and women prepare to saddle up, racing inches apart at 230 mph. You're walking on 100-plus years of history, from all the millions who've come before you on these fabled grounds.
You head up to cover the race, and you feel it's your obligation to do it proper justice. The race is older than you, it's bigger than you, and it will go on long after you depart.
With the rest of the month in 2014 serving as an ample buildup, the race itself remained stellar as always.
IN SUMMATION…
The Speedway doesn't release attendance figures, but you have to think the individuals involved, from IMS President Doug Boles all the way down, are smiling after this one.
And they deserve it, too, after a packed and revitalized few weeks.