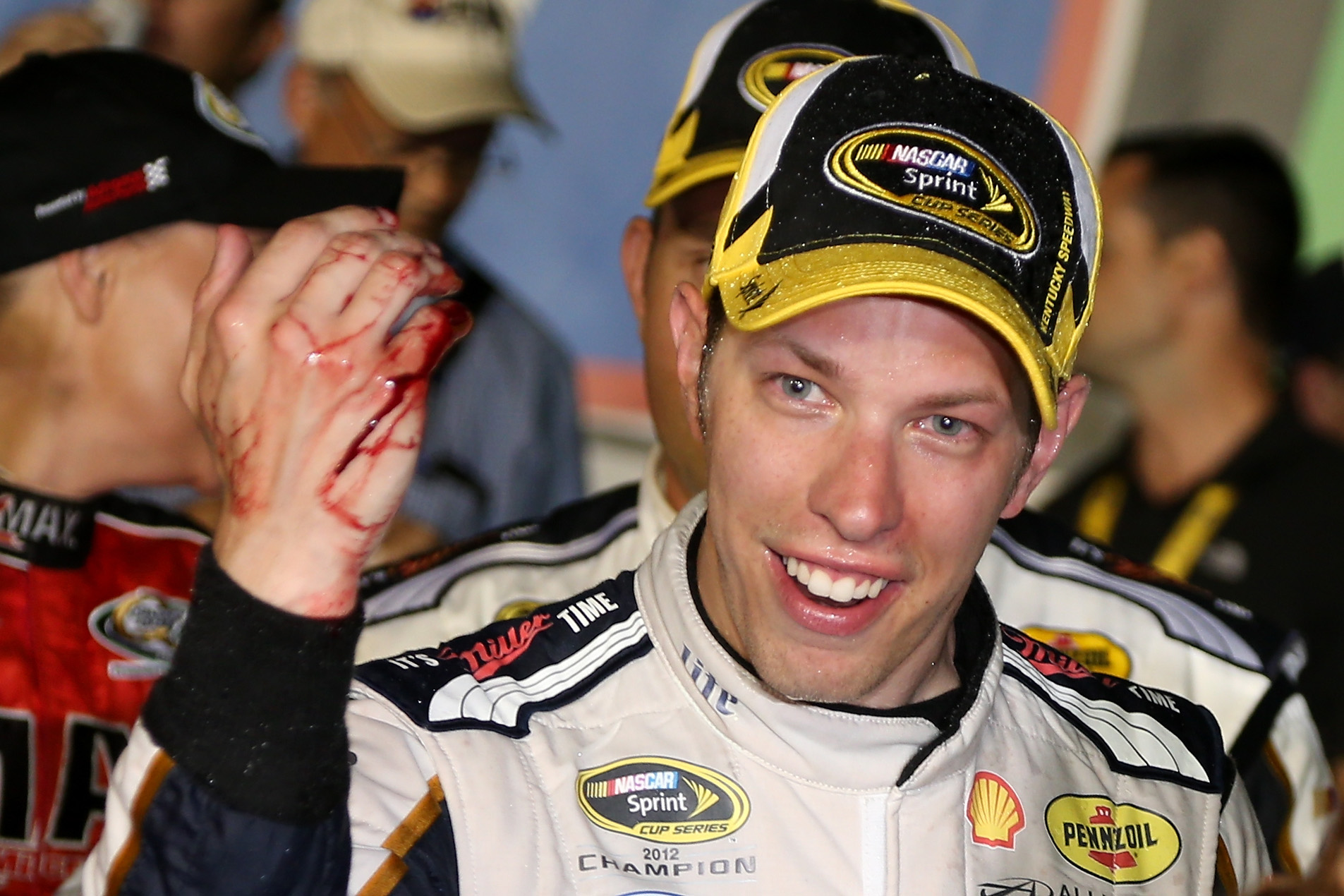 UPDATED (12:22 a.m. ET): Sporting a bandaged right hand with a NASCAR Sprint Cup winner's sticker on it,  Brad Keselowski exclaimed "Hey everybody!" as he finally entered the Kentucky Speedway media center for his post-race press conference.
A few questions into the presser, Keselowski was asked which was more treacherous: Victory Lane or navigating the 1.5-mile oval's rough surface.
"The front-stretch bumps are a concussion, and Victory Lane is bleeding of the hand," Keselowski mused. "I guess I don't have enough to lose upstairs to worry about the first one.
"So, the champagne. I should have stuck with beer."
Keselowski also added more details about the incident, saying that he thought he hit the bottle on the corner of the podium before it broke on him.
"I don't know, I was trying to get the top off and shaking [the bottle] at the same time," he said. "People were spraying me and I couldn't really see all that well. It was just one of those deals.
He felt that his bandaged hand would not hinder his ability to drive in next Saturday's Coke Zero 400 at Daytona.
"Last time I had stitches, it was seven days or so, and we're going to Daytona, which is probably the easiest track you could ask for," he said.
"I didn't break any bones or any of that stuff. I just put in a big gash, so I don't think it'll be an issue."
—
UPDATED (11:37 p.m. ET): Ford Racing has tweeted a photo of Keselowski's bandaged right hand after cutting it with the broken champagne bottle in Victory Lane. The manufacturer reports that he needed four stitches.
—
After winning tonight's Sprint Cup race at Kentucky Speedway, Brad Keselowski ended up going to the track's infield care center after slicing his hand open on a broken champagne bottle.
Photographer Kirby Johnson Gordon was able to catch a shot of the bottle apparently exploding in Keselowski's hands, which led to the injury.
And from ESPN's Jim Noble:
Obviously, the incident has held up the usual post-race media proceedings at Kentucky. Keselowski led 199 of 267 laps tonight en route to his second win of the season.
We'll have more on the situation as it develops…