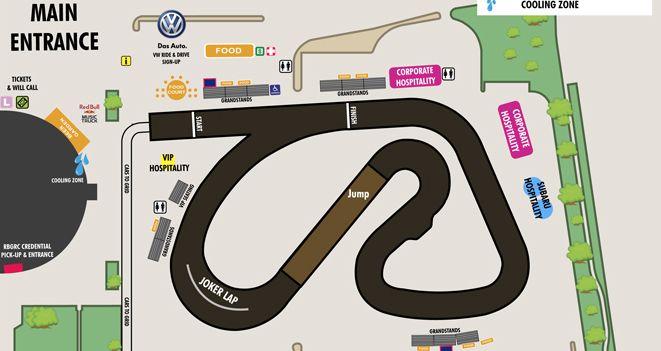 After a few weeks off, Red Bull Global Rallycross resumes its 2014 season this weekend with the fourth round of the championship on Long Island, New York.
Volkswagen Rallycross NY will take place Saturday and Sunday on the grounds of the Nassau Veterans Memorial Coliseum, home to the National Hockey League's New York Islanders. But today, the series revealed how the track will look for the proceedings.
Competitors will be going in a clockwise direction on a .467-mile track that keeps getting tighter until they encounter a left-hand hairpin at Turn 4. From there, they'll get airborne with a dirt jump heading into Turn 5, which also features the "joker lap," and then return to the pavement at Turn 6.
"As we raced (a similar layout) in Las Vegas, we have a basic idea for the setup, so we can start with cars that are very close to what needs to be run," Washington, DC event winner Patrik Sandell told the series' website. "I really liked the track in Las Vegas—there was room for passing in a lot of places. New York will be a cool track as well."
The most recent round in D.C. not only had Sandell claim his first Red Bull GRC win, but also tightened up the championship as well.
Nelson Piquet Jr. couldn't get past Sandell in the D.C. final, but the Brazilian's runner-up finish helped him pull within a single point of points leader Scott Speed (135-134). Steve Arpin and Sandell are tied for third with 108 points apiece, followed by Joni Wiman in fifth with 85 points.
You can watch Volkswagen Rallycross NY LIVE this Sunday at 2 p.m. ET on your local NBC station and NBC Sports Live Extra for online/mobile devices.