Drivers in the 2014 NASCAR Chase for the Sprint Cup will have a new set of identifiers during the Chase. See the release put out by NASCAR below:
—
Celebrating the accomplishments of those drivers who will contend for the 2014 NASCAR Sprint Cup Series championship, NASCAR has released several new elements to the paint schemes of race cars making the 16-driver Chase Grid.
Chase for the NASCAR Sprint Cup-eligible cars will have the roof number, the front splitter / front fascia and the windshield header colored yellow, as well as have a Chase for the NASCAR Sprint Cup logo affixed to the front-quarter panel of their race car.
As part of NASCAR's emphasis on winning races all season long, this celebratory paint scheme will be placed on a driver's car to begin the Chase for the NASCAR Sprint Cup, at Chicagoland Speedway on Sept. 14. Once a driver is eliminated after one of the Chase's first three rounds, the paint scheme will be removed from the car. Please refer to the graphic below for a visual representation of these changes.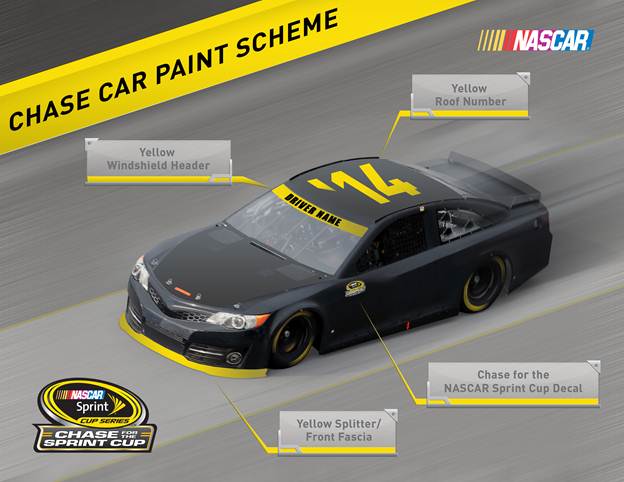 These changes serve as a visible symbol of the new Chase format. In addition, the paint scheme elements will ensure that fans are able to easily identify each championship contender as NASCAR's playoffs progress.
Announced by NASCAR Chairman and CEO Brian France in January, the new championship format expands the Chase field to 16 drivers, up from 12 in previous years, and implements a new round-by-round advancement format that ultimately will reward a battle-tested, worthy champion.
A victory in the first 26 races all but guarantees a berth in the 10-race Chase. The number of championship drivers in contention for the championship decreases after every three Chase races,culminating with four drivers racing for the title at Homestead-Miami Speedway in the NASCAR Sprint Cup Championship, scheduled for November 16.