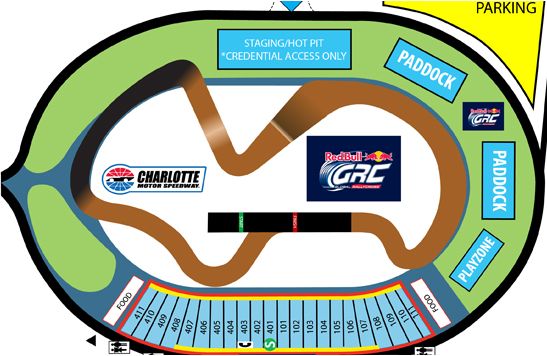 After Tanner Foust emerged as the victor of a riotous final in New York, the beat goes on for Red Bull Global Rallycross this weekend with a trip to The Dirt Track at Charlotte Motor Speedway – known for being the home of the World of Outlaws' World Finals.
The GRC contingent will race on an eight-turn layout that, naturally, leans toward dirt as the dominant surface. The only pavement areas of the course are at the starting gate and outside Turns 3 and 4 of the Dirt Track's clay oval.
"It is going to be absolutely insane this year at Charlotte," driver Steve Arpin said recently to the series' web site. "The big thing last year was we all got flat tires because we were driving so hard on around a rough and rutty dirt track, but we got new tires this year so that is not going to happen, so we will go even harder yet.
"That track is so wild, you have all the banking in Turns 1 and 2—we are wide open all the way through there – we literally jump over the race track, literally over the wall, then jump back in on the other side."
Andretti Autosport has won three of the four races so far this year, but Nelson Piquet Jr. of SH Racing Rallycross holds the championship lead by 35 points over Andretti pilot Scott Speed.
Speed finished right behind Foust in New York, but a post-race penalty knocked him down to ninth in the final results and helped give Piquet his points advantage going into Charlotte.
But Piquet has worked hard to get to where he is at this point of the season; his three consecutive podium finishes in the No. 07 Ford Fiesta ST are proof of that.
Another key storyline for this weekend is the return of Brian Deegan, who we last saw in Austin at the X Games. In last year's Charlotte event, Deegan finished on the podium – one of his 11 career podiums in GRC, which is good for second all-time in series history. He'll be driving the No. 38 Rockstar Energy Drink Ford.
You can watch the final of Red Bull Global Rallycross Charlotte tomorrow afternoon at 2 p.m. ET on NBC and NBC Sports Live Extra for your online or mobile device.