It didn't take a rocket scientist to know this was coming, but it still doesn't soften the blow.
The loss of the National Guard sponsorship for both Dale Earnhardt Jr.'s No. 88 Hendrick Motorsports Chevrolet in NASCAR, and Graham Rahal's No. 15 Rahal Letterman Lanigan Racing Honda in IndyCar is both troubling and a sign of the times in terms of how fragile racing sponsorships can be.
We'll start with the 88 car. Consider you have NASCAR's most popular driver, riding the wave of momentum this year with what's been by far his best ever season at Hendrick Motorsports and best overall since 2004 – when he won six races and contended for the title down to the wire.
Hendrick now has to sell the 20 races the Guard sponsored, which sounds easy in theory but not necessarily execution. There have been a handful of unsold races along the way for the 88 this year and last; while they've eventually been filled, it is still an exercise in pounding the pavement and convincing companies the car needs to be sponsored.
For 2015, Junior has Nationwide Insurance (12 races), PepsiCo (5) and Kelley Blue Book (1) locked in. So as of August 2014 – the time when many Fortune 500 companies are beginning or finalizing their marketing and sponsorship budgets for the following season – it's likely going to take finding several other companies to fill the remaining 19 points races.
The catch, of course, is that the Hendrick Motorsports statement said the Guard plans to continue in 2015 – so figuring out whether that holds true or the "Guard draws down after 2014" prospect becomes the reality is a question mark on that side.
While filling the void on the 88 might take time, Earnhardt Jr. is still a more sellable asset than Rahal, who at 25 should be one of IndyCar's most popular drivers but hasn't quite had it all click.
Rahal, the driver, has failed to recapture the heights he achieved as a then 20-year-old in 2009 with Newman/Haas/Lanigan Racing, when he often troubled the Ganassi and Penske squads at the front of the field. A year of taking part-time opportunities, two midlevel years with Ganassi of his own and a homecoming to his dad's team a year ago have yielded little – he's only had six podium finishes in the last five seasons (three in 2011, one apiece in 2012, 2013 and 2014).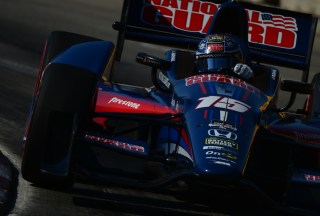 The National Guard sponsorship only got awarded to RLL after a legal battle with John Barnes of Panther Racing, who submitted a higher bid that was ultimately rejected. Panther, unfortunately for its crew, was unable to make the grid in 2014, and thus the series lost another car.
I can't imagine when RLL worked tirelessly throughout the offseason to capture the Guard support that they thought it would have only been for one year. That's a royal kick in the pants for a team that added a sponsor and added depth in engineering (Bill Pappas) to support Rahal's 2014 season.
My hope for RLL is that they weren't blindsided with this news, and that they have another backup plan ready to replace the $12 million in overall funding brought both to the team and to the at-track activation.
And if there is an upside for RLL, it's that Bobby Rahal has been in this position before, of needing to find sponsors to replace ones that have left him and his team in the lurch.
Consider just in the last six years, Ethanol, Service Central/Midas/Big O Tires and Acorn Stairlifts have all adorned but now left RLL. Others such as Shell, Miller, Argent, Pioneer and Gigante/Office Depot have all passed through the RLL sponsor arena and have since left IndyCar entirely.
After 2008, RLL had to withdraw from IndyCar full-time once Ethanol pulled out, and Takuma Sato's 2012 effort was run on a relative shoestring budget without a major sponsor. Still, Sato damn near won the Indianapolis 500 that year.
Perhaps there was a perception issue of the Guard's presence in motorsports; perhaps the Guard did more than what was reported and that the government never really "got it." Consider this insight from Kurt Busch's girlfriend, Patricia Driscoll, founder of the Armed Forces Foundation:
It's a shame that @NationalGuard has decided 2pull out of Motorsports based on the opinion of a few vs the the HUGE impact it had. #shame

— Patricia Driscoll (@Patricia_AFF) August 7, 2014
Thats total BS. I know frm being involved they had 1 of the most effective recruiting prgms "@MO_Outlaw41: @NationalGuard not one recruit

— Patricia Driscoll (@Patricia_AFF) August 7, 2014
Don't believe what you read. That was reported incorrectly. I saw the report "@MO_Outlaw41: @Patricia_AFF @NationalGuard not one recruit…

— Patricia Driscoll (@Patricia_AFF) August 7, 2014
EVERY troop I bring to the track each week wants to see that @NationalGuard car & take a pic w/it. Even if they know nothing about nascar

— Patricia Driscoll (@Patricia_AFF) August 7, 2014
Alas, what this withdrawal means is twofold: BIG money in American racing is an endangered species, and no sponsorship is safe.
When you combine the fact the Guard spent more than $40 million this year on its two racing sponsorships and activation/marketing, you have to realize that's an unsustainable number for any company to support in modern day motorsports. The fact this is a government sponsorship only adds to the perception that it's a wasted, sunk cost.
Second, when a driver as popular as Dale Jr. is set to lose one of his biggest sponsors, it's a troublesome sign. The business model in NASCAR is at the point where it almost has to change to make sense. You can guarantee the Race Team Alliance is taking notice of this fact.
Where both the 88 and the 15 go from here is anyone's guess, but they both have been put on notice by this drawdown.