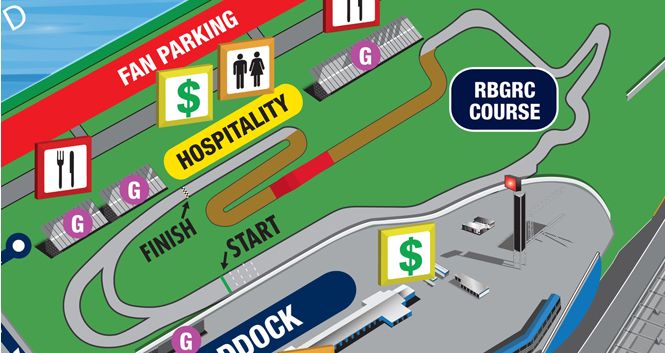 After a mid-season break, Red Bull Global Rallycross will return to action in a big way this weekend at Daytona International Speedway.
For their visit to the "World Center of Racing," the GRC racers will tackle a 13-turn, .924-mile layout that's the longest such course they've faced in 2014.
The layout will also be somewhat familiar to avid Rolex 24 watchers, as it's built mostly within the International Horseshoe section of the Daytona road course.
However, it has its quirks. Instead of a runoff area, drivers will start from the layout's actual frontstretch and will come across the joker before the first turn.
The layout then flips to a dirt surface for the next three turns. In this part of the course, the series' signature dirt jump will be situated ahead of the left-hand Turn 3.
At Turn 5, the surface returns to pavement before drivers twist through a rhythm section inside the Horseshoe. They'll head back on to the Daytona road course for the final two turns, with the penalty box positioned coming out of Turn 11.
"The joker is in a very unique spot, which will make for an interesting first lap, because it's in the first corner," said Andretti Autosport's Scott Speed in a series release. "It's going to be cool to run on some of the Daytona 24 Hours track too. Overall, it should be a great race for the fans to watch."
Speed is one of several competitors in the Daytona GRC field that have also competed on the track's legendary 2.5-mile oval, home of NASCAR's Daytona 500.
Another of those competitors is SH Racing Rallycross' Nelson Piquet Jr., who currently leads Speed in the championship by 46 points going into this weekend's Round 6 of the 2014 season.
You can watch Saturday's final LIVE from Daytona at 2:30 p.m. ET on your local NBC station and NBC Sports Live Extra for online/mobile devices.