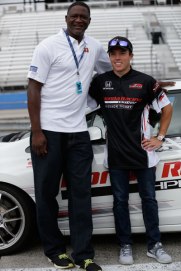 Charlie Kimball has had famous athletes stop by the Novo Nordisk Chip Ganassi Racing setup before – Indianapolis Colts quarterback Andrew Luck stopped by during practice for the 2013 Indianapolis 500.
Last weekend in Milwaukee, he had NBA legend, Hall of Famer and Atlanta Hawks vice president of basketball Dominique Wilkins as an honorary member of the No. 83 Novo Nordisk Chip Ganassi Racing Chevrolet crew.
The 6-foot-8 Wilkins was diagnosed with type 2 diabetes, which accounts for about 90 percent of diagnosis and is associated with age, obesity and family history.
"I went through denial for about a week," he said Aug. 16 while getting a tour at the team's paddock. "I was pretty shocked when I was diagnosed; my father died of diabetes and so did my grandfather. I knew it could affect somebody in our family but I didn't think it could be me because I was in great shape."
Wilkins was in awe of the racing team, crew and effort during the weekend. Here's his tweets from the track:
NBA Hall of Famer @DWilkins21 on @NBCSN … @KelliStavast getting a boost from the cooler. #IndyCar #IndyFest -PLR pic.twitter.com/Ix7h6dvvo2

— Charlie Kimball (@racewithinsulin) August 17, 2014
Heading to the track!! It's race day!! Let's go get em @charliekimball and @racewithinsulin team!! @MKE_IndyFest @IndyCar

— Dominique Wilkins (@DWilkins21) August 17, 2014
"@MitchRobinson_: Great to see @DWilkins21 is getting his IndyCar fix this weekend. You'll have a blast!" Already plugged in & addicted

— Dominique Wilkins (@DWilkins21) August 16, 2014
That's it for practice. Get ready for qualifiers in about an hour. @racewithinsulin @charliekimball @MKE_IndyFest pic.twitter.com/C1zsa4xvRT

— Dominique Wilkins (@DWilkins21) August 16, 2014
#IndyFest practice 2 is under yellow, so @DWilkins21 is having some fun with the #RaceWithInsulin crew. pic.twitter.com/W2Xg9LzqM9

— Team Ganassi (@CGRTeams) August 16, 2014
Looks like @DWilkins21 could be a part of the No. 83 @novonordiskus @CGRTeams team! #CKsCrew #IndyCar #IndyFest -PLR pic.twitter.com/RBkCy96k3B

— Charlie Kimball (@racewithinsulin) August 16, 2014
So cool to have NBA legend @DWilkins21 here & introduce him to the #IndyCar world! Good guy. pic.twitter.com/Nxa0bAjeKp

— Charlie Kimball (@racewithinsulin) August 16, 2014
"@tonydizinno: Follow @DWilkins21 – the @NBA legend is a part of @CGRTeams this weekend w/ @RaceWithInsulin. #IndyCar #IndyFest" Excited!!!

— Dominique Wilkins (@DWilkins21) August 16, 2014
If u don't know just how advanced these @IndyCar rides r, do yourself a favor & check out the race tomorrow @MKE_IndyFest

— Dominique Wilkins (@DWilkins21) August 16, 2014
You haven't experienced a race until u get the best pit crew in Indy to explain just how labor intense race prep is! pic.twitter.com/zF8Bo1TBxA

— Dominique Wilkins (@DWilkins21) August 16, 2014
Excited to have @DWilkins21 at @MKE_IndyFest to cheer on @RaceWithInsulin. See their pace car ride on Sunday on @NBCSN. #CKsCrew #IndyFest

— Novo Nordisk US (@novonordiskus) August 16, 2014