SONOMA, Calif. – Following a frantic Friday in Sonoma that set up Saturday's championship showdowns, the drama could not have been higher for the Mazda Road to Indy at Sonoma Raceway. And the races that followed in USF2000 and Pro Mazda, respectively, could not have lived more up to the billing. Indy Lights also set the stage for its three-way title bout on Sunday.
PRO MAZDA (Race 2 Results)
One of the most chaotic, surprise and eventful races in Pro Mazda Championship presented by Cooper Tires history ended with American Spencer Pigot breaking through for his elusive first championship on the Mazda Road to Indy, driving for Juncos Racing.
Pigot and title rival, and prior points leader Scott Hargrove, started on the front row from Saturday's final round of the season from Sonoma Raceway. Pigot was contacted by Hargrove's Cape Motorsport with Wayne Taylor Racing teammate Neil Alberico on the first lap, which was an unfortunate coming together between the two Rising Star Racing-supported drivers.
Nonetheless Pigot kept his head down, stayed focus and was able to recover from being knocked outside the top 15.
"I had a decent start, I was right with Scott going into turn two and I got hit from behind," Pigot said. "I was sure someone was going to hit me. I'm glad the car stayed together! But you never know what's going to happen in racing or with the car, so I knew the only thing I could do was pass everyone in front of me as fast as I could. I just put my head down and was able to pick off one or two guys each lap."
Needing something of a miracle, Hargrove, who'd led from there, suffered a gearbox issue following a restart with four laps to go. Hargrove fell like a stone from the lead until he was just in front of Pigot.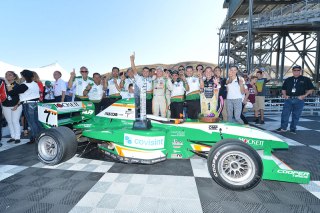 Exiting Turn 7, Pigot attempted to pass Hargrove at Turn 8, but the two nearly collided at that point. Pigot somehow avoided the stricken Canadian and was able to make it home a surprise P5, and with enough points to claim the championship.
"We've had our fair share of disappointing ends of championships, my supporters and my family, and we knew it had to change sometime," Pigot said. "Today, we had both good and bad luck but luckily the good was at end. I've been second twice but I haven't won a championship since Skip Barber so I'm glad to finally be on top.
"This is going to be my third Mazda scholarship – I definitely wouldn't be here without the support of Mazda and the support they give to all the young drivers in the Mazda Road to Indy so I'm going to be very happy to take that money off of them and go shopping to drive one of those beautiful new Dallara IL-15s."
As for the race? Almost overlooked was another of Pigot's Juncos teammates, Jose Gutierrez, earning his first career win (Kyle Kaiser had done so on Friday). Nicolas Costa continued his strong second half of the season with P2, and Shelby Blackstock secured another podium in third. Gutierrez ran second to Hargrove most of the race, but took the lead once Hargrove hit trouble. Rookies Jack Aitken and Joey Bickers sandwiched Pigot in fourth and sixth, respectively.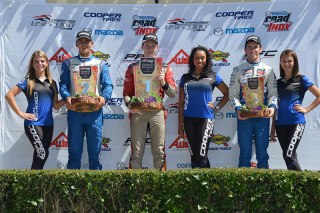 USF2000 (Race 2 Results)
Florian Latorre is the 2014 Cooper Tires USF2000 champion – the Frenchman delivered the title on the strength of a determined drive in the final round of the season Saturday in Sonoma.
Latorre had the pole over title rivals RC Enerson and Jake Eidson, but Enerson moved to the lead off the start. While Enerson held the point for most of the 15-lap race, Latorre made it past on Lap 11 through and exiting Turn 7, and was able to pull away from there to confirm the victory and the championship.
"After Barber I was 32 points back I think? So I had to finish all the races, get some good points and for me the goal was to take very good points," Latorre said.
He added, "My parents gave everything for me, for my career, and this is a way to repay them. I should take the scholarship to Pro Mazda next year."
Enerson was second with Eidson third, so the final race of the year finished in championship order. Following Friday's dramatic second-to-last race of the year, this was a quieter affair.
"We were off on the car setup today, not a lot of front grip in the car. We just didn't have enough for him today," Enerson said.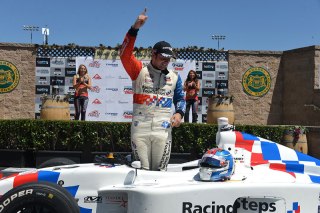 INDY LIGHTS (Race 1 Results)
Jack Harvey continued his permanent road course dominance (he swept Mid-Ohio earlier this month) with a flag-to-flag triumph in the first of two Indy Lights presented by Cooper Tires races. In the process, he more than halved the 23-point gap to prior leader Gabby Chaves, who finished second.
Behind the top two, Harvey's Schmidt Peterson Motorsports teammate Luiz Razia was third. Razia missed an opportunity to take more points away from Chaves.
Zach Veach, who entered only seven points behind Chaves, struggled after starting and finishing seventh.