It's not often you get the opportunity to have a few laps in an Audi with a three-time Le Mans winner at a world-class circuit. Yet that was the chance afforded to me this past weekend at Circuit of the Americas, part of the FIA WEC media rides with Rinaldo "Dindo" Capello in an Audi RS 7.
Though Capello's been retired from the LMP1 ranks of the Audi prototype program for two years, he hasn't lost his joie de vivre, or his ability behind the wheel. He remains as active as ever in an ambassadorial role for the brand and still travels to events.
Alas, my ride came after the first round of laps were complete. Capello was wondering what kind of brakes – carbon or steel – his car he had when they were smoking upon pulling into pit lane, just prior to pit out.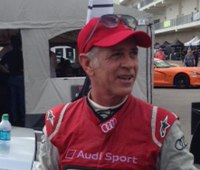 "Must be steel," he said as the smoke dissipated and I buckled in.
Immediately, as we launched out of the pit lane, you could tell Capello was reminiscing about what it would be like to drive one of the latest generation Audi R18 e-tron quattros, or even the standard Audi R8 LMS, in this moment.
While the RS 7 is an incredible beast, at 560 bhp with all-wheel drive and an awesome interior, it's still a much heavier car and that's not ideal for this circuit which tends to favor sleeker, more svelte and nimble type cars.
"This car is too heavy for this track," said Capello, who still had no problem extracting the maximum out of it as we flew down the hill, through Turn 2 and immediately into the esses.
He began to wax poetic about the track before we'd even really got going.
"Love this circuit. Love this sequence. Just like Silverstone," he said, as the esses section of COTA from Turns 3 to 7 is a near carbon copy of the Silverstone sequence that includes Maggotts, Becketts and Chapel corners.
Now when you're feeling how heavy the steering input is, and how hard you're thrashing to pound these corners in a heavier car, you can begin to appreciate the magnitude of what the racers are doing this weekend.
Turns 8 through 10 are a bit slower as you crest the rise and then run down the hill to Turn 11. Capello leaves his braking fairly late here, but turns into the hairpin at the proper angle to release out and launch down the back straight.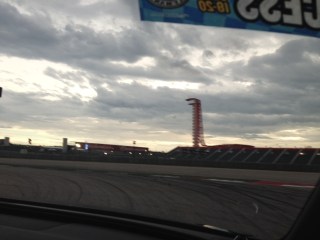 Then you get into the tight, twisty bits. Turns 12 through to 15, it's difficult to get much rhythm as it's stop-start-stop-start before you exit Turn 15 and head into the three-apex right-hander just next the COTA Tower, Turns 16-18.
This was where the extra weight was noticeable because Capello was pushing like mad through the corner. He was oversteering as we did a near-perfect, opposite-lock power slide through the right hander before plunging down into Turn 19, catching our breath for maybe a split second, hard on the gas and then back on the brakes into Turn 20.
And that was a lap – before he got it going even better on the second lap.
Interestingly as you crest the hill into Turn 1, from the passenger's seat (and to a point, the cockpit), the climb up the hill isn't nearly as severe as it appears from a spectator standpoint. It feels a gradual rise, rather than one that's as severe as it looks in track maps and from either the inside or outside of the circuit.
But it's the plunge down the hill after Turn 1, into Turn 2 where you feel your stomach drop out. It's more noticeable than the Corkscrew at Mazda Raceway Laguna Seca, for instance, where it feels a slight gradual drop rather than a plunge.
And then we were on for two more laps. With Dindo bang-on at every single apex.
I knew he was pushing too, because our rides were scheduled maybe half an hour before the Austin weather went south and the rain hit.
Perhaps the only thing that could have made it better was if Capello did one lap, did a driver change, handed off to Allan McNish, another change and then Tom Kristensen jumped in to bring it home.
But the sensory experience of riding merely in the passenger's seat at this track just showcases what a circuit this is.
Sometimes you have to pinch yourself on occasion to remind you of the awesomeness this line of work entails, and riding shotgun with one of Italy's greatest sports car heroes at one of North America's finest circuits certainly affords you that opportunity.
Sincere thanks to Fiona from FIA WEC and Dave from Circuit of the Americas for the opportunity.