NASCAR's Drive for Diversity program has seen some noticeable successes as of late.
Three of its graduates in particular have been especially successful: Kyle Larson's likely bagged Sprint Cup Rookie of the Year honors, Darrell Wallace Jr. is a regular contender in the Camping World Truck Series, and Mexico Series star Daniel Suarez is heading for the Nationwide Series in 2015.
Time will tell if at least one of the 20 drivers participating in next month's D4D Combine at Langley Speedway (Hampton, Va.) can make a big name for themselves too.
But for now, they'll be looking to earn a spot in the D4D's class of 2015 through the combine.
This year's batch of prospects largely come from across North America, with one exception: 17-year-old Juan Esteban Garcia Duarte, who hails from Bogota, Colombia.
Two drivers, 25-year-old Abraham Calderon and 18-year-old Ruben Garcia, Jr., come from Mexico. One Canadian, 22-year-old Amber Balcaen, is also set for the combine.
The other 16 drivers in the combine are from the U.S., with perhaps the biggest name of the lot being Kenzie Ruston, the 22-year-old Oklahoma native that set a new record for best finish by a female driver in K&N East history by placing second last month at Iowa Speedway.
Here's the full roster: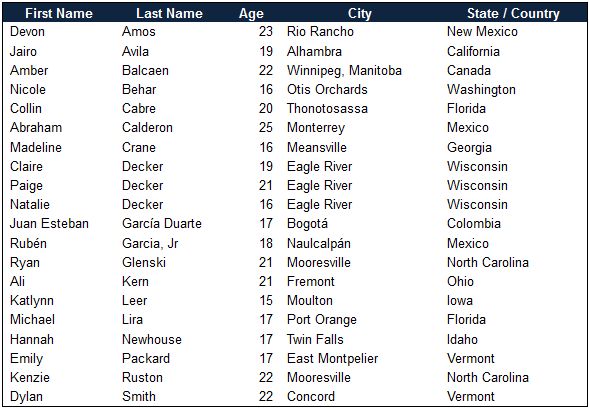 "This year's Combine applicant pool was among the strongest the program has seen, and we continue to see that year over year," said Max Siegel, owner of Rev Racing, which helps run the D4D program.
"The program's visibility and reputation for developing young, female and diverse drivers with talent and growth potential has increased across the board, and we are seeing steady recognition and support from key stakeholders across the motorsports industry."
Per a NASCAR release, each driver will be evaluated on at-track performance including: Positioning at different places on the track, proficiency in providing in-car feedback to the crew chief, overall speed, and the ability to shift during assessments.
The combine will take place at Langley from Oct. 13-15.