One of the drivers to watch heading into the offseason in the world of sports car racing is Christina Nielsen, the Danish driver who competed in several championships this past season.
In her first full season in North America, Nielsen, 22, raced a full season with NGT Motorsport in the IMSA Porsche GT3 Cup USA, a partial season in the TUDOR United SportsCar Championship with NGT and TRG-AMR, and made her Pirelli World Challenge debut with TRG-AMR at Sonoma.
Highlights included three podium finishes in GT3 and a sixth place finish in the Platinum Masters' category and a debut podium in PWC, third in the GT-A class.
We caught up with Nielsen at Austin. Plans to run in GT Daytona with NGT for Road Atlanta were shelved when one of her scheduled teammates, Earl Bamber, was called up to a factory Porsche GT Le Mans seat and NGT withdrew the car. She slotted in at TRG-AMR with James Davison and David Block.
MotorSportsTalk: You've been transitioning between Porsches this season, with the Cup car and the 911 GT America. How have you learned and adjusted?
Christina Nielsen:  It hasn't been easy, that's for sure. See it as a great opportunity to practice and adjust quickly. As a pro driver that's something you need to do quickly. I'm very hapy to do it. I've been fortunate to drive so many. It brings a bit of extra work, but I'm very happy to do it.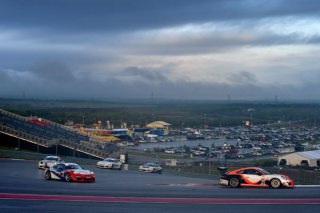 MST: What have you learned from working with a team of NGT's pedigree within GT3?
CN: It's been great; the team has a lot of experience. I think the guys on my car have taken good care of it. My engineer has a single focus on my car, and we've been strong individually even though we're a big team. Some bad luck this season. Some issues. But hopefully we'll work through them.
MST: Racing in traffic from your TUDOR opportunities, what have you learned there about multi class racing?
CN: It's crazy when you're racing with several categories, and it's definitely not easy at a new track. There's a lot of things to adjust to, and to learn to practice who is coming at you. Is it a competitor? Do you let this guy pass? What's important to focus on? It's been an amazing experience.
MST: Having a combined FIA WEC/TUDOR weekend on your schedule allows you to meet and network rather well. How do you take advantage of that?
CN: What's great for me this weekend is that I'm only doing IMSA GT3, so not on double duty. And I finish Friday evening. So I'm free to mingle around on Saturday and see what everyone else is doing. I'm happy with where I am, but this way you get a lay of the land.
There's friends and other Danes you want to see… Tom Kristensen, for instance, I just said hello to him. He's a great guy. I mean it's an honor to see him race. His performances are amazing.
MST: 2015 outlook is a jump to TUDOR? Pirelli World Challenge? Possible return back to Europe?
CN: We have to consider Pirelli World Challenge and (TUDOR) GTD as well. But we have to face the fact we probably don't have the budget for GTD. It's not that easy. We are open to all options. I like racing in America, I like the tracks, and I like the culture.
MST: About the culture, how have you embedded yourself over here this season?
CN: Especially with a focus on next year, it would be nice to be over here again. I have developed some solid performances that have caught some interest. You make a solid base and try to use that for next year. I definitely found my two favorite tracks, Road Atlanta my number one and Mosport (Canadian Tire Motorsoprt Park) is super cool.