Sometimes it's easier to just list off the champions when you have 27 of them to go through.
So, without further adieu, your 2014 SCCA National Champions from this year's Runoffs, held at Mazda Raceway Laguna Seca. Results listed in the order the races ran, not necessarily by class or alphabetical order:
Touring 1: Andrew Aquilante, Chester Springs, Pa., No. 32 Phoenix Performance/Hoosier/Hawk Performance Ford Mustang
GT-Lite: Joe Huffaker, Petaluma, Calif., No. 77 Huffaker Engineering Mini Cooper
Formula F: Jeremy Grenier, Charles Town, W. Va., No. 21 Ski Motorsports/Hoosier/ELR/KDD Citation Formula F Honda
Spec Miata: Erik Stearns, Van Buren, Ohio, No. 97 East Street Racing/Eds 24 Hour Service 2000 Mazda Miata
F Production: Nigel Saurino, Tulsa, Okla., No. 57 The Race Shop/Kelley Engines/Hoosier MG Midget
American Sedan: Dylan Olsen, Kelso, Wash., No. 13 Shock Shop/Correct Car SUV/Nutter Ford Mustang
Prototype 1: Chris Farrell, Salt Lake City, Utah, No. 58 C&M Manufacturing/GDR Engines/Hoosier/Geartro Stohr WF1 Suzuki
STU: Andrie Hartanto, Concord, Calif., No. 98 CT Engineering/Supertech/Wicked Tuning/Quickjack Honda S2000
Touring 3: David Daugherty, Fortville, Ind., No. 8 Nissan/Hoosier/Carbotech/Enkei Nissan 370Z
STL: Cliff Ira, Kansas City, Mo., No. 36 Fira Motorsports Acura Integra GSR
Prototype 2: Fabian Okonski, Los Gatos, Calif., No. 4 Simplicity in Sound Mobile Audio, GDRE Stohr 01D Suzuki
E Production: Matt Reynolds, Boerne, Texas, No. 71 Reynolds Brother's Racing/Jesse Prather Motorsports/Vintage Connection Mazda Miata
GT-2: Andrew Aquilante, Chester Springs, Pa., No. 36 Phoenix Performance/Hoosier/Hawk Performance Chevrolet Corvette
GT-3: Collin Jackson, Langley, British Columbia, No. 53 Nissan 240-SX
Formula Mazda: Mike Anderson, Anza, Calif., No. 42 HASA/Whiteflyer Formula Mazda
Formula Enterprises: Scott Rettich, Columbus, Ohio, No. 17 Alliance Autosport/PDI Comms Systems SCCA Formula Enterprises/Ford
Formula Continental: Robert Allaer, Lithia, Fla., No. 52 Martini/Coors Light/LTD Motorsports Van Diemen RF02/Ford
Touring 2: Andrew Longe, Naples, Fla., No. 02 Trianon/FALL-LINE Motorsports Porsche 911/997
Touring 4: Daniel Bender, Northbrook, Ill., No. 15 Bravo Trailers/BFGoodrich Tires/Autobarn Mazda Mazda MX-5
B-Spec, Kyle Keenan, Vancouver, Wash., No. 44 Kia Motors of America Kia Rio
Formula Vee: Rick Shields, Bridgeville, Pa., No. 77 ARS Inc./Veesport Racing/Autowerks VDF-2 Vee
GT-1: Kyle Kelley, Huntington Beach, Calif., No. 3 UPRacing.com/Jamison Engineering/1st Class Chevrolet Corvette
Formula 500: Brian Novak, Dearborn, Mich., No. 73 Hoosier/NovaRace/AiM NovaKar J360/Rotax
Spec Racer Ford: Cliff White, Huntsville, Ala., No. 58 Cottage Senior Living/Valvoline Spec Racer Ford
Formula 1000: J.R. Osborne, Englewood, Col., No. 83 Ralph Firman/Hoosier/GeartronicsMoo RFR 1000/Kawasaki
H Production: Lawrence Loshak, Grafton, Wis., No. 1 ETE Reman/HYPERformance/RWM/Hoosier Honda CRX
Formula Atlantic: Conner Kearby, Corpus Christi, Texas, No. 56 GK Motorsports Swift 016a Mazda
Some photos from the Runoffs: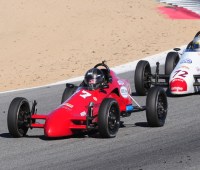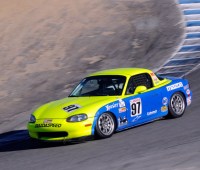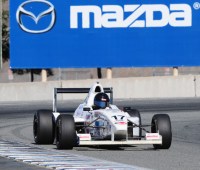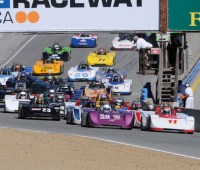 Some notes from the Runoffs:
Spec Miata saw each of the top six cars penalized post-race for unapproved modifications, which cost Mark Drennan (San Jose, Calif., No. 10 NoWifeNoKids/TFB/Riverbed Mazda Miata) the title and promoted seventh-placed Stearns to the title. "What happened this week, with so many cars being non-compliant, is unfortunate. We need to ensure that this moment is a trigger for a positive change in this class," SCCA President Lisa Noble said in a release.
Formula Vee also saw post-race results adjustments following technical inspection. Terran Swanson (Petaluma, Calif., No. 86 Toad Hall Ent/Swan Tech Graphic Co. Mysterian M4/Volkswagen) lost the title after the shakeup, and the top three were bounced altogether. That promoted fourth-placed Shields to that title, which was a surprise result after spinning on the last lap from second to fall to fourth.
The P2 title was shifted from David Ferguson to Okonski after Ferguson and Mark Mercer were penalized a position each for passing under a yellow.
21-year-old Saurino took the FP title over Huffaker and SCCA VP of Marketing and Communications Eric Prill, who was racing for Maxton's Fight – Prill's 3-year-old son Max has Pre B-Cell ALL Leukemia, and teams and drivers around the country have rallied for "Super Max" this season.
17-year-old Kearby (FA) was this year's youngest National Champion.
Aquilante (T1 and GT-2) captured his fourth and fifth National Championships, and defended his 2013 titles in both classes achieved at Road America.
Huffaker (GT-L) made his Runoffs return for the first time in 10 years.
Ira (STL) won despite billowing smoke in the waning stages of his race, and had enough oil to make oil pressure.
Jackson (GT-3) is now 3-3 in Runoffs races, having won titles in 2003 (Mid-Ohio) and 2006 (Topeka).
Rettich (FE) captured the SCCA Club Racing Super Sweep, awarded to drivers who win a Majors Conference Championship, one of 10 key Majors races, win the National point standings and the Runoffs in a single class. This was also his fourth Runoffs title
Allaer (FC) beat 16-year-old Andrew Evans, of Sammamish, Wash., for that title.
Longe (T2) edged Kyle Kelley in his Corvette by just 0.047 of a second for the T2 win (main picture). Kelley won GT-1 so he didn't go home empty-handed.
That edged out the closest win this Runoffs over the closest ever SRF win, White edging Mike Miserendino by just 0.065 of a second.
Loshak (HP) ran that race immediately after running F1000 just before, where he finished sixth. In HP, he held off the Toyota Yaris of SportsCar magazine's Jason Isley by just 0.189 of a second.
In the first West Coast Runoffs since 1968 (Riverside), there were five champions from California, and several others from Western states.