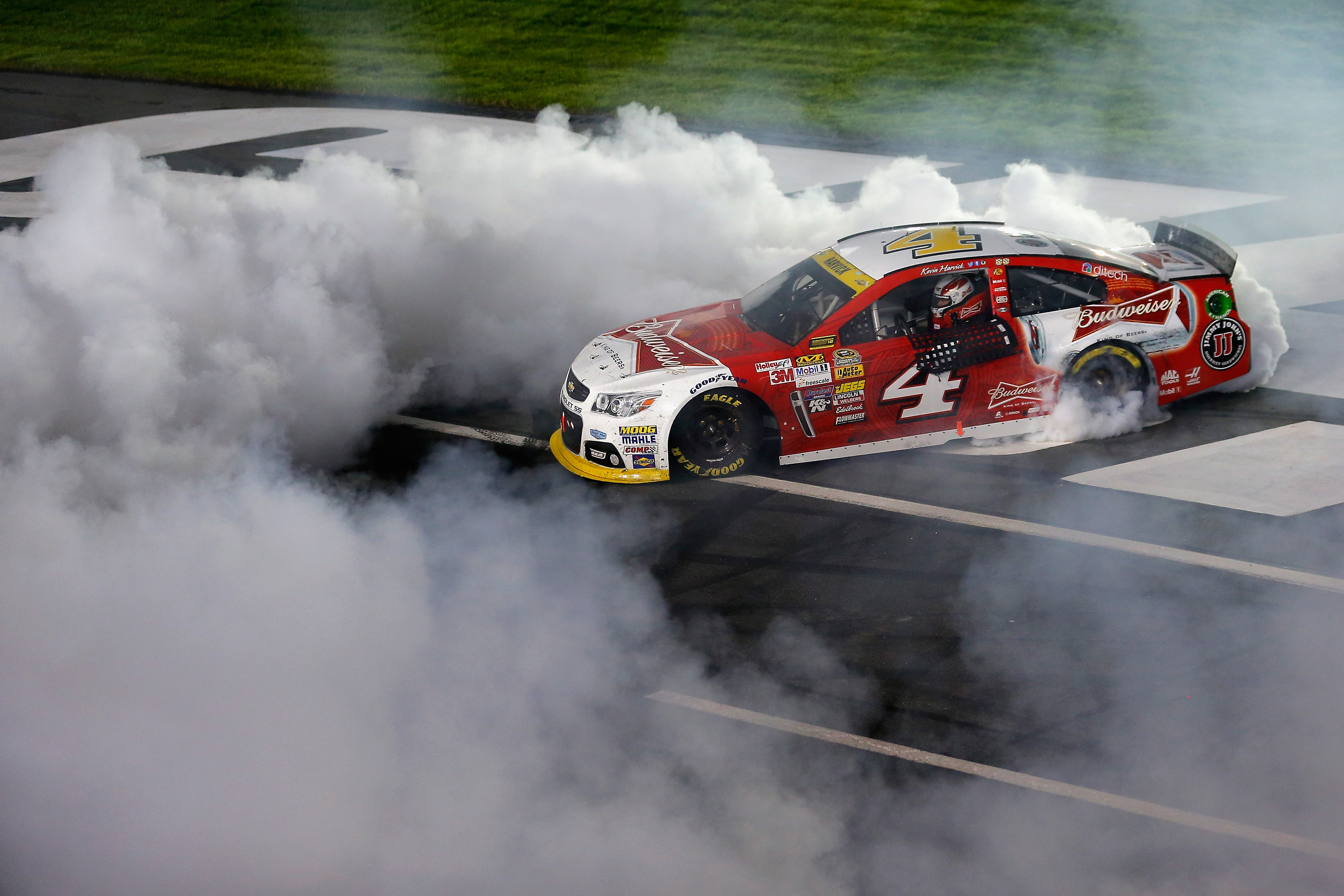 "Uh oh."
One can't help but wonder if that was what the Sprint Cup garage was thinking at the end of Saturday night's Bank of America 500 at Charlotte Motor Speedway.
Kevin Harvick, perhaps the fastest driver in the field throughout this NASCAR season and indisputably the most snake-bit, finally returned to Victory Lane.
No getting caught in freak accidents. No mechanical failures on his No. 4 Stewart Haas Racing Chevrolet. No slow stops from his pit crew.
And with his third win of the season – his first since the Southern 500 at Darlington in April – no more worrying about next weekend's elimination race at Talladega.
Harvick has expressed his share of frustrations over the numerous problems that he has encountered, but in the second half of the season, he's taken to keeping the team's spirits up.
His main message, paraphrased: Don't worry about the luck. It'll turn. We've got everything else and when the luck does turn in our favor, we'll be contenders.
"I tell [crew chief Rodney Childers] this every week at lunch, Monday when we get back and we've had something crazy happen," Harvick said late Saturday night. "You get back, and I'm like, 'Bottom line is we have a fast car and we can win every race. We'll just keep working on everything and try to get it all worked out.'
"And hopefully by the end of the year, you have everything worked out and you can race for a championship and be in position to race for that championship at Homestead.
"But when you have fast cars, everything else takes care of itself eventually. Bad luck can't haunt you forever."
Harvick will have some added confidence going into the Eliminator Round, but this Charlotte win has to be a huge boost for his 4 crew that have been trying to keep their heads up as one winning performance after another went by the boards throughout the summer.
And as far as their Chase rivals are concerned, you can't help but think they're in trouble now that the sleeping giant has been awakened at last.
MORE: Jeff Gordon finishes 2nd, boosts Eliminator Round hopes … Kahne holds final Eliminator spot by one point … Jimmie Johnson faces end of title reign … Dale Jr.'s one last chance … A Chase without Junior, Jimmie, and Kes? … McMurray, Ganassi still best among non-Chase competitors.
—
Saturday's race at Charlotte was an important one for Brad Keselowski, who was in a deep points hole on the Chase Grid after crashing in the Contender Round opener at Kansas.
But instead of making headlines for a win that would erase his Kansas wreck, he made them for being at the center of a post-race fracas that involved him:
1) Trying to spin Denny Hamlin on the cool-down lap;
2) Running into Matt Kenseth and Tony Stewart on pit road;
3) Having Stewart back into him and smash up his No. 2 Team Penske Ford (see above);
4) Causing Hamlin to need to be restrained from going after him;
and 5) Getting sorta-tackled from behind by Kenseth in the hauler lot [Insert reference to childhood memories of WWE Raw and WCW Monday Nitro here].
So now we wait. Obviously, NASCAR has to do something. "Boys, have at it" and the ability to self-police is nice, but there are limits.
Keselowski certainly appears to have breached those limits. But what can the sanctioning body do about him, especially considering that he's still a part of this post-season (albeit barely; he's 19 points behind the cutoff with one race to go in the Contender Round)?
What we know is this: Talladega, the second elimination race of the Chase, was already shaping up to be a compelling race on its own. And now it's gotten even more compelling.
—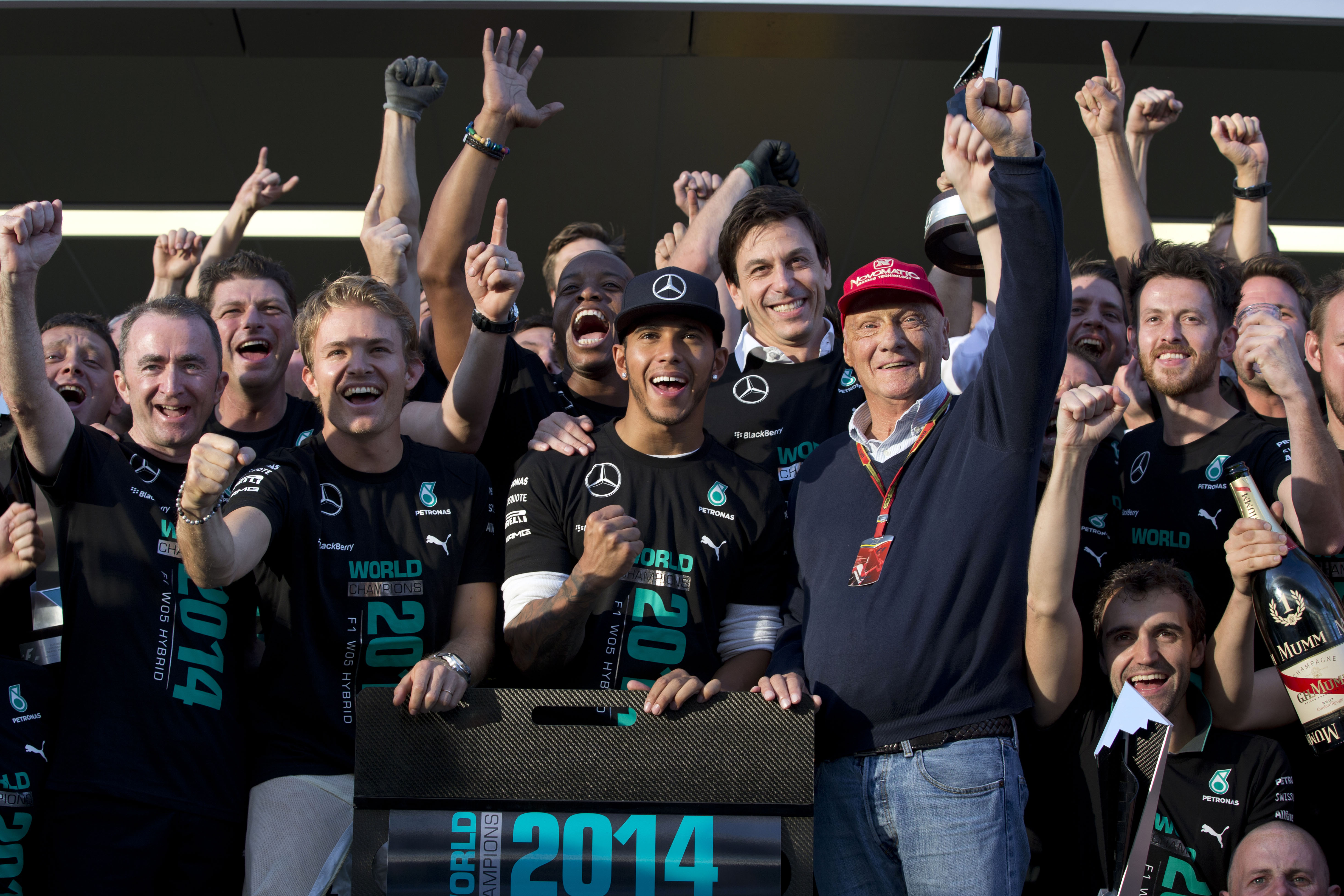 A 1-2 finish for Lewis Hamilton and Nico Rosberg in Sunday's Russian Grand Prix at Sochi enabled Mercedes to clinch the 2014 Formula One Constructor's Championship.
So with that big piece of hardware secured, now Hamilton and Rosberg can fight it out, straight-up, for the World Driver's Championship…Except there may not be much of a fight coming.
Hamilton's win on Sunday was his fourth consecutive triumph, the second time he's rattled off four in a row this F1 season. And it was a straightforward victory too thanks to Rosberg, who locked up the tires going into the first turn, gave up the lead to Hamilton after cutting said corner, and then had to pit for new tires.
The rest of his race was about getting that set of rubber to the end – never mind hunting down Hamilton, who has effectively seized momentum as the United States Grand Prix in Austin looms on Halloween weekend. Meanwhile, Rosberg is going to need to deliver a Texas-sized statement there if he wants any hope of a comeback.
But casting a pall over the entire proceedings in Russia was the absence of Jules Bianchi, who remains at last update critical but stable following his horrendous crash in the Japanese Grand Prix.
Bianchi's Marussia team rebuilt the Frenchman's car, but kept it in their garage and sent out Max Chilton as its sole representative for Sunday's race. Unfortunately, a wheel problem knocked Chilton out just nine laps in.
Hamilton would dedicate his victory to Bianchi and his family, saying that "it will make a very small difference, for sure, but every bit of positive energy hopefully will help."
MORE: Rosberg disappointed to lose ground on Hamilton … Alonso rules out racing with Merc engine in 2015 … Kobayashi told to stop car by Caterham … Bottas on the podium again … Merc boss delighted with Constructor's title … McLaren gets a good points haul … Home driver Kvyat has disappointing day.