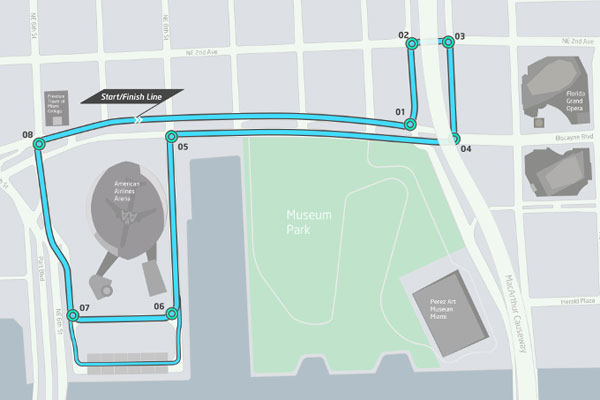 FIA Formula E's track layout for the Miami ePrix, which will be held Miami 14 next year, has been revealed on Monday. It will be an eight-turn, 2.17 km layout.
The circuit goes around the American Airlines Arena, home of the Miami Heat, and will also incorporate portions of the old Bicentennial Park layout from the 1995 CART race held there.
The run from Turn 8, the last corner leading onto the Start/Finish line, and into Turn 1 is the back straight from that 1995 race. The track veers into a series of four 90-degree corners (left-handed Turn 1, then three straight right-handers) before another left-hander at Turn 5. That straight runs parallel to the Museum park layout.
Turn 5 makes the run onto what was the pit straight for the CART race, before Turns 6 and 7 are a pair of back-to-back right-handers. The pit lane will be on the other side.
A final run that includes a quick left/right chicane will follow before Turn 8, the final corner.
Worth noting that Michael Andretti won the pole for that 1995 CART race and Gil de Ferran made his debut; Andretti's Andretti Sports Marketing group heads up the Miami ePrix promotion, while de Ferran is an ambassador for Formula E.