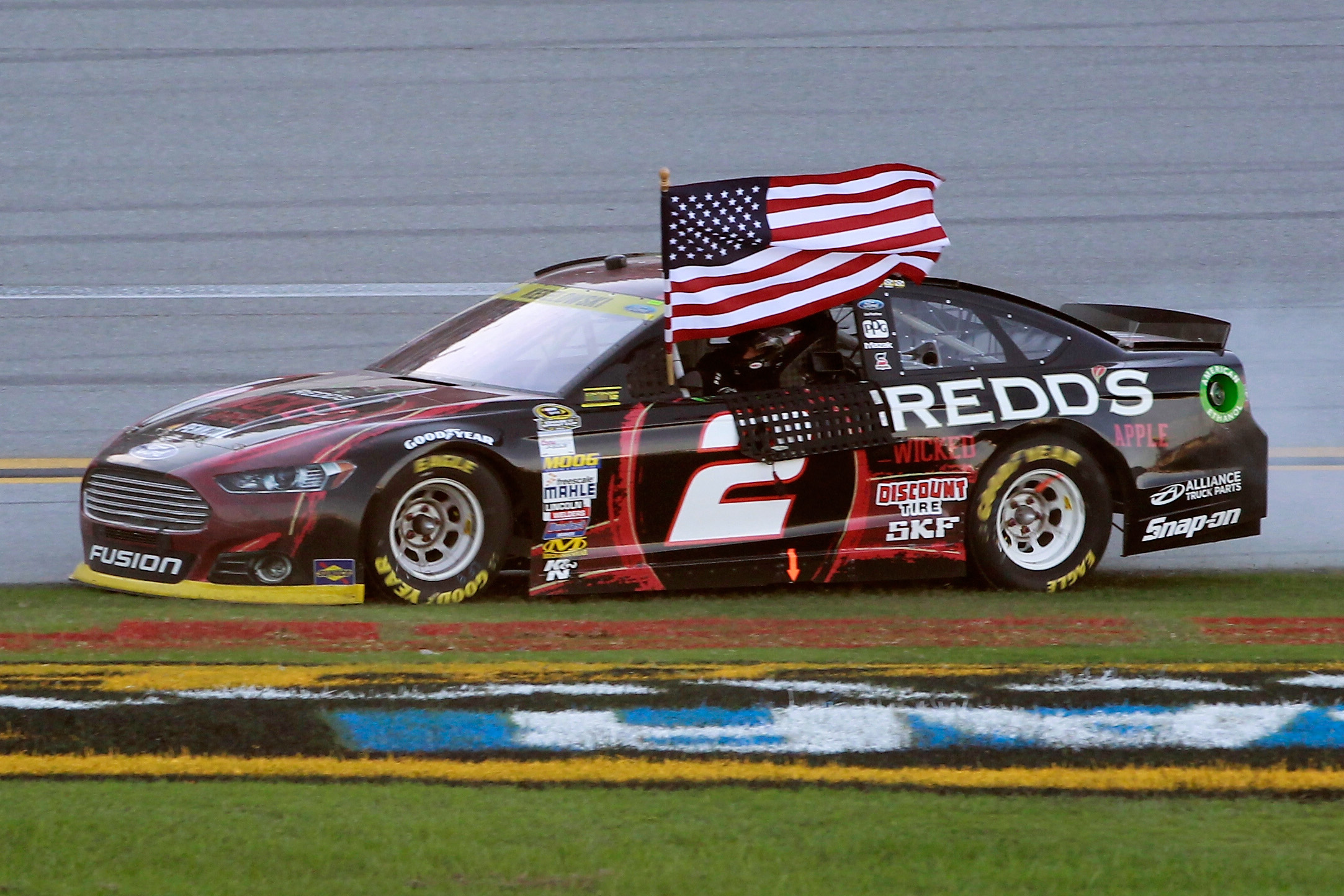 It's not always easy to give credit where credit is due.
But for many within NASCAR Nation that condemned Brad Keselowski following his post-race actions at Charlotte Motor Speedway, that's what they need to do.
Yes, Keselowski did some dumb things.
Yes, he deserved the $50,000 fine and probation.
And yes, he brought more unnecessary adversity upon himself as he went into Sunday's Contender Round finale at Talladega Superspeedway needing a win in order to move on in the Chase for the Sprint Cup.
But you have to tip your cap to a guy that can overcome all of that and get the result that saved his season.
We can't quite say that Keselowski's victory on Sunday was a miracle. The man drives for Team Penske, one of the top two teams in NASCAR, after all.
But it was most definitely impressive. He had to start from the back of the grid (unapproved adjustment). Then, he took damage to his car as part of an early crash at Lap 60, and had to give up precious track position in order to get it straightened out.
Undaunted, Keselowski quickly raced his way back into the Top 10.
Then late in the race, a caution came out during the final cycle of green flag pit stops. Keselowski had pitted before the yellow and had to take a restart with nine laps to go in 16th place.
But with the help of teammates Joey Logano (already in the Eliminator Round thanks to his Kansas win) and Ryan Blaney, Keselowski roared all the way to second place when a debris caution with four to go sent the race into green-white-checkered.
A crash involving Dale Earnhardt Jr. ended the first attempt, but in the second attempt, Keselowski went wheel-to-wheel with a game Ryan Newman. As the final lap played out, Keselowski got help on the inside from – of all people – Matt Kenseth, the same man that was driven to such rage by him at Charlotte that he attacked him from behind and put him in a headlock.
The racing gods work in mysterious ways. But their machinations definitely worked for Keselowski, who pulled away from Newman and led Kenseth to the checkered flag.
Such a result is sure to polarize fans after what occurred in Charlotte. But whether you love or loathe Keselowski, what he did on Sunday – to win in a must-win situation, in NASCAR's most treacherous setting – deserves respect.
MORE: Roger Penske defends Keselowski, says other drivers "jealous" of his success
—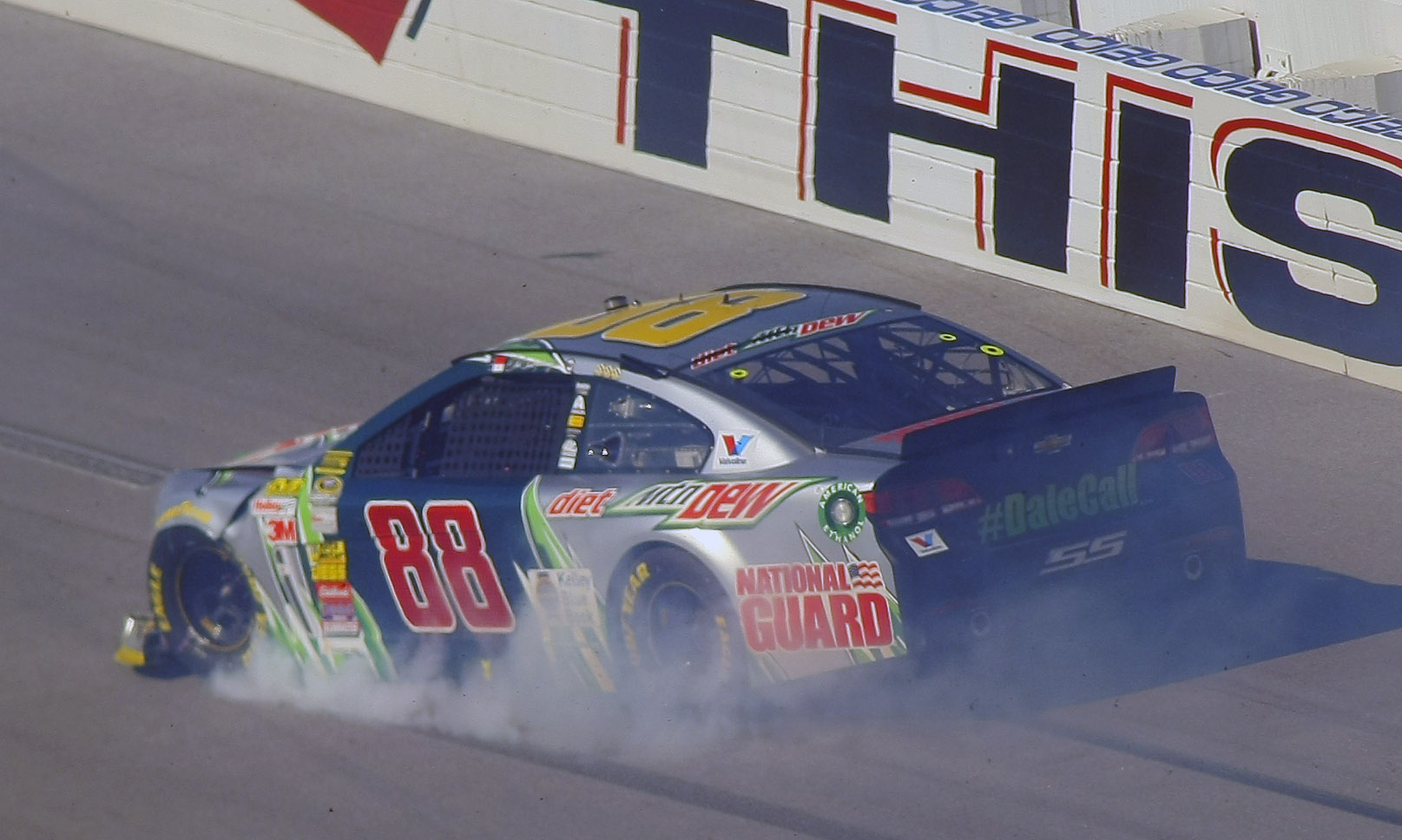 Brad Keselowski avoided Chase elimination thanks to his Talladega win, but four others – including three from the Hendrick Motorsports juggernaut – could not.
On Lap 102, Kyle Busch was riding in the back of the pack hoping to dodge chaos in front of him as it happened. Sure enough, contact between Aric Almirola and J.J. Yeley on the backstretch touched off a multi-car melee.
But instead of avoiding it, Busch was hit from behind by another car and sent into the inside retaining wall. Almost 50 laps passed before Busch returned to the track, but his 40th-place finish caused him to miss out on the Chase by seven points.
Meanwhile, the Hendrick trio of Kasey Kahne, Jimmie Johnson and Dale Earnhardt Jr. all came up short as well.
Kahne's 12th-place finish was not enough as he missed the cutoff by just three points. Johnson led a race-high 84 laps and was running in the Top 5 late, but was shuffled back during green-white-checkered and could not recover (finished 24th). And Earnhardt was caught in a backstretch pileup during GWC1.
With that, the mighty HMS is down to one Chase representative – Jeff Gordon, who finished 26th but managed to beat Kahne for the eighth and final Eliminator Round spot.
MORE: Winless Newman, Kenseth move on…Could either of them conquer the Chase?…Newman's car found to be too low, may lead to penalties…What to do if your favorite driver's been eliminated…Landon Cassill earns career-best finish…