We have a bit of word confusion here from across the pond in Enstone.
The good news is that Lotus has a new sponsor for the U.S. Grand Prix weekend; the bad news is the press release announcing it seems to have had the words bungled.
Here's a screen capture of the release, and an explanation on how this new sponsor has actually come to be: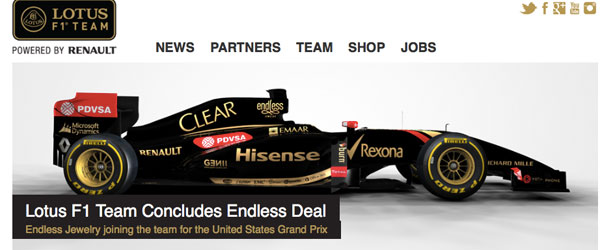 The team release initially had the headline: "Lotus F1 Team Concludes Endless Deal" – which would seem to indicate it's ending a deal with something that's meant to have no end. So that's confusion number one.
The second confusion is that in the headline, "concludes" is meant to reference the team concluding the deal – getting it done in order to announce it.
However, as it turns out, the headline means none of what those words could indicate.
What has happened, once you read through the release, is that Lotus will see the jewelry company, called Endless, adorned on the airbox and on the top of sidepod of the Lotus E22 for the United States Grand Prix weekend.
Quotes follow from the listed Lotus F1 Team CEO, Matthew Carter: "Endless Jewelry is an exciting young brand which is rapidly expanding in Europe and North America. The company ethos and approach very closely reflects those of Lotus F1 Team, making this partnership a perfect fit. The United States Grand Prix is a terrific event which gains fantastic exposure worldwide and is the perfect showcase for the US aspirations of Endless Jewelry."
Added Jesper Nielsen, Endless Jewelry CEO: "Becoming a part of the Formula 1 world has been a childhood dream for me and having the opportunity to celebrate the successful launch of Endless Jewelry in the North American market in connection with the United States Grand Prix is an overwhelming feeling. Seeing the Endless logo on the beautiful black and gold Lotus F1 Team car is really something special and business wise it's an investment that is sure to give the brand massive exposure – and everybody participating in the event a unique experience. I am very proud of the agreement with Lotus F1 Team."
The thing Lotus will be looking to end or conclude in Austin, more notably, is its current pointless string of races since Monaco in May. The team's gone 10 consecutive Grands Prix without a score; Pastor Maldonado, of course, has failed to crack the top 10 even once this year.
Of note too, some reports have indicated the team's also planning to remove its twin tusk nose for Austin and instead try a single nose approach, although the team is yet to officially confirm that.