Being a witness to history is one thing; creating a tribute to history is another.
For sculptor William Behrends of Tryon, N.C., he's been fortunate enough to do both.
Behrends is in the process of completing his 25th face on the Borg-Warner Trophy this winter; he's working on the mold of Ryan Hunter-Reay that will be revealed in early December at the Indianapolis Motor Speedway.
The Borg-Warner faces, though, stand in stark size contrast to his other key sculptures, which fans and onlookers will see displayed prominently outside AT&T Park in San Francisco starting with tonight's Game 3 of the 2014 World Series.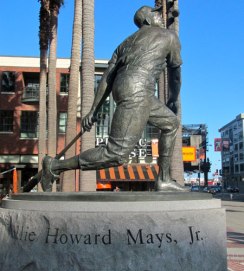 Behrends created four sculptures of Giants legends Willie Mays, Willie McCovey, Juan Marichal and Orlando Cepeda, which all stand around the perimeter of AT&T Park.
While the Borg-Warner faces are less than the size of an egg, the Giants sculptures stand a life-sized 9½ feet tall, on 5-foot high granite pedestals.
Behrends explained the challenges in creating two entirely separate sculptures, given the size and material changes.
"It took me a while to do this – doing the first few years, it took some time to get comfortable," Behrends told MotorSportsTalk when addressing his integration into doing the faces on the Borg-Warner.
"By 1990, I'd been doing sculpture full-time since the early '70s, and a big part of it was portraits. You have to create the anatomy and structure of the head and face. That's no different in this scale.
"In this scale, the extra challenge is to make it read from a distance. You have to make it such a way, so you can tell who it is from a distance. You have to capture that personality and expression, and that's something that I've gotten better at.
"If you have a life-size portrait and meet it eye level, it's a different challenge. This, you have to make it right."
Perhaps the most intriguing part of the year-to-year evolution for the Indianapolis 500 winners is that Behrends works from the same piece of clay, and molds a likeness from that every year.
The image is put in the clay, which eventually leads to a mold, and a positive copy of the image. It's roughly a three-step process, Behrends said, and there's no way to define the exact number of hours for each face.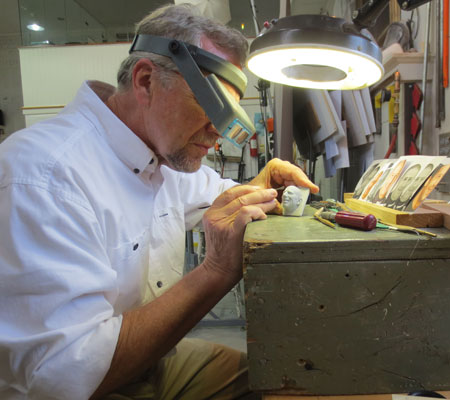 This year's shift has been from Tony Kanaan, who won last year, to Hunter-Reay.
"That's one of the first adjustments I made, so I could carve away a lot of the nose and have more clay elsewhere," Behrends explained.
"I like both of them for different reasons. What's distinct about their faces is vastly different.
"RHR has a very strong jaw, and there's something about his eyes and mouth that's very distinct. It took a while that first day to get from one to another because they're so different."
Kanaan has often joked about his nose size throughout his illustrious 15+ year career and Behrends said that a likeness, not a caricature, is key to the molds.
"Last year, because Tony's (nose) is so distinctive, a caricature would be easier. But you need a likeness, and that comes pretty quick," he said. "You try to infuse some character and nuance/expression. That's about the challenge every year. What makes it live, takes the time. That first part is challenging."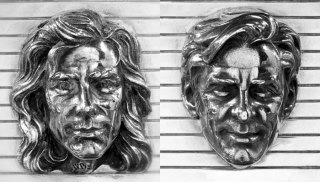 Though Behrends didn't indicate a favorite face, per se, he did say he was a big fan of Arie Luyendyk's molds. Luyendyk won the 500 twice – in 1990 and 1997 – and other than a noticeable change in hair between the two wins there wasn't much in the way of refining that was needed.
For multiple '500 winners, Behrends said you still take each driver as a "new winner;" that means he'll start from scratch even if a driver won back-to-back '500s.
While the Borg-Warner face remains an annual project, the statues at AT&T were one-time affairs, but ones with a lasting impact at one of Major League Baseball's most iconic parks.
Behrends worked in partnership with senior Giants officials Larry Baer and Peter McGowan to cast molds and then begin to immortalize Giants legends Mays, McCovey, Marichal and Cepeda.
For Behrends, who's still a Giants fan today albeit one living on the East Coast, it provided an incredible opportunity to spend time with them, get to know them, and then put the pieces together.
"Mays was my hero when I was growing up; I was Willie Mays," Behrends said. "I modeled my stance, pattern and everything. To see him play in Chicago, and have distinct memories of him, then to meet with him, talk baseball with him… you have to pinch yourself."
The Mays statue sits outside the front ballpark entrance; McCovey's is, naturally, in McCovey Cove with Marichal's and Cepeda's also outside the ballpark.
Getting Marichal's signature high-leg kick to work as a statue, and be held down firmly, provided one of Behrends' greatest challenges.
"That's something Peter wanted was that pose," he said. "We found a yoga instructor, and he couldn't do it. Marichal was quite an athlete – just that delivery was quite an athletic feat. That sculpture sits on one leg, so it has to be really strong. It's the same with the Mays; it weighs a ton, but there's nothing under the center of gravity. Strong, stainless steel structure. I didn't see it – but somewhere there's a picture of 8-10 fans after the last time they won the Series. But it passed the test."
As Behrends reflects, he isn't slowing down any – he just appreciates the opportunity every year.
"It's a tremendous challenge – one you take seriously because you're their biographer," he says. "Even after they're gone, you'll see that imagery. I take it very seriously. I take it the best I can."