AUSTIN – With a day's worth of practice in the books, it was interesting to gauge some reactions of fans on the ground here in Austin regarding the change in the engine formula and the reduction of the two teams that have gone into administration.
Much has changed in a year's time since the 2013 United States Grand Prix. The reaction was about as you'd expect, a mix of excitement, intrigue and disappointment.
Start first with a San Antonio native named Michael making his first trip to a Grand Prix, but a veteran fan of the sports car weekends here featuring the FIA World Endurance Championship and IMSA series the last two years.
"I immediately noticed they're immensely less loud than the WEC hybrids, Audi and Porsche," he told me on the outside of the esses, at Turn 3. "The change doesn't bother me because I had nothing to compare it to. The big thing to witness here is the change of direction."
While positive – and bullish – about seeing the speed of an F1 car on site, he did express regret over the demise of Caterham and Marussia, which seemed a frequent sentiment. He added he was "crushed" that Alexander Rossi was unable to make his Grand Prix race debut, denied for the third time this season.
While Michael's a new fan, local fan Greg has been to Grands Prix as far back as 1970 at Silverstone, and additionally to Montreal.
He said it was a bit strange to have earplugs with him and not be able to use them. But the bright side of the engine change, he said, was that it showcases the cutting edge technology that remains F1's hallmark.
This being Halloween, there were due to be a few costumes on the grounds, and so while waiting in line for a bit of local Austin food flavor I happened upon two 20-something-year-old fans named Daniel and Kyle dressed as Mario and Luigi. Given the team reduction this weekend, it was perhaps a surprise these two weren't added to the grid given the open slots…
Alas, they spoke highly of the engine change, noting how much they enjoyed hearing the turbo spool and the different engine notes. But like others, they were gutted to hear Rossi wouldn't be on the grid.
Lastly as I headed near Turn 9 and on the run down to Turns 10 and 11 – after starting my jaunt coming across the bridge at Turn 3 – I saw a flag in full living color that read "Kimi is the Iceman."
Turns out the sign was handmade by another 20-something named Jesse, who had only just moved to Austin in the last several weeks and was bringing the sign out of a seven-year hiatus.
He was nicely able to compare and contrast Austin to his only previous U.S. Grand Prix – the finale at Indianapolis in 2007 – and spoke highly of how much more involved Austin is as a city.
"I made up a Kimi is the Iceman flag at Indy 07 – just a massive fan," he said. "It's my first GP since. In Indy it didn't feel as though there was a proper USGP vibe, here, everyone is aware of it."
He and I also chatted about the demise of the smaller teams, noting how drivers like his favorite – Raikkonen – and Fernando Alonso may not have moved into their current slots at Ferrari without talent spotters like a Peter Sauber or Giancarlo Minardi discovering them at age 21 and 19, respectively.
"The U.S. is realizing the magnitude of losing two teams, and if it would have been three it would have been a crisis," he said. "This has to be a wakeup call."
There was also this five-pack of folks – a mix of Englishmen and Americans – who I saw but weren't able to talk to too much.
What was refreshing about all of this, though, was that although the crowd appeared a bit smaller from last year (more on that to come in a separate trackside perspective piece later this afternoon), the passion, fervor and enthusiasm for F1 endures.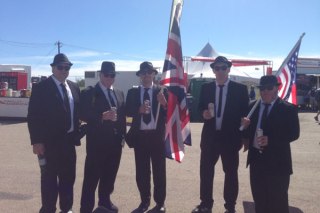 Sometimes, you get a bit blasé when you're primarily bouncing between the paddock and the media center at an event. You occasionally forget the people who really make this thing work, and that's the fans – and for them, long may this race continue.
NBC/NBCSN SCHEDULE FROM UNITED STATES GRAND PRIX