AUSTIN – Lest we forget that the U.S. Grand Prix at Austin is only Formula One, there are two other series on the docket this weekend.
Both the Porsche Mobil 1 Supercup and Ferrari Challenge are in action, as both series' drivers cope with limited track time.
Practice and qualifying are in the books as of Saturday morning before their first races this afternoon. Ferraris run first from 3 to 3:35 p.m. local time for 10 laps or 25 minutes, while the Porsche run from 4 to 4:30, for 14 laps or 30 minutes. Sunday races run before the U.S. GP.
Ricardo Perez of Mexico City claimed the Saturday pole position for Ferrari of Houston, ahead of a second Ferrari of Houston entry driven by Mark McKenzie. The 35-car grid sees the field of Ferrari 458 Challenge entries with a wide grid gap of more than 9.2 seconds from the pole time (2:10.591) to the slowest qualifier (2:19.751).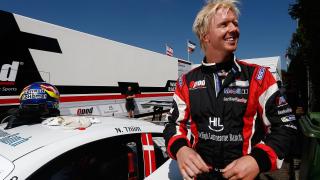 The Supercup series – which is stacked at the top with talent – had its qualifying after F1's FP3.
Leading into qualifying, practice saw Kuba Giermaziak, Michael Ammermuller, Nicki Thiim, Ben Barker and Earl Bamber round out the top five – all bar Ammermuller made selected starts in North America this year in the TUDOR United SportsCar Championship. Giermaziak's fastest practice time was a 2:10.140, and the top seven in practice were separated by only 0.462 of a second.
Times dropped substantially from practice with Giermaziak setting the early pace once more at 2:08.334, and the top nine down to Christian Englehart (0.959 of a second back) were within a second halfway through the 30-minute session.
Giermaziak was poised to capture the pole position with his early session flier, but on his final lap, Thiim beat it with a 2:08.305. That edged Giermaziak by just 0.029 of a second. Ammermuller, Bamber and Eng completed the top five, all separated by just 0.201 of a second.
Beyond the leaders, there are several Americans in the Supercup race too. Young rising stars Madison Snow, Sean Johnston and Colin Thompson are entered along with David Ducote, Jeff Harrison, Tomy Drissi, Mark Kvamme and Bill Peluchiwski. Johnston, in 12th, is the top American on the grid with Snow 15th and Thompson 18th.
Unfortunately American Porsche Junior driver Connor de Phillippi was due to drive, but like Alexander Rossi on the Formula One side, his team ran into funding issues for his car that have sidelined him.