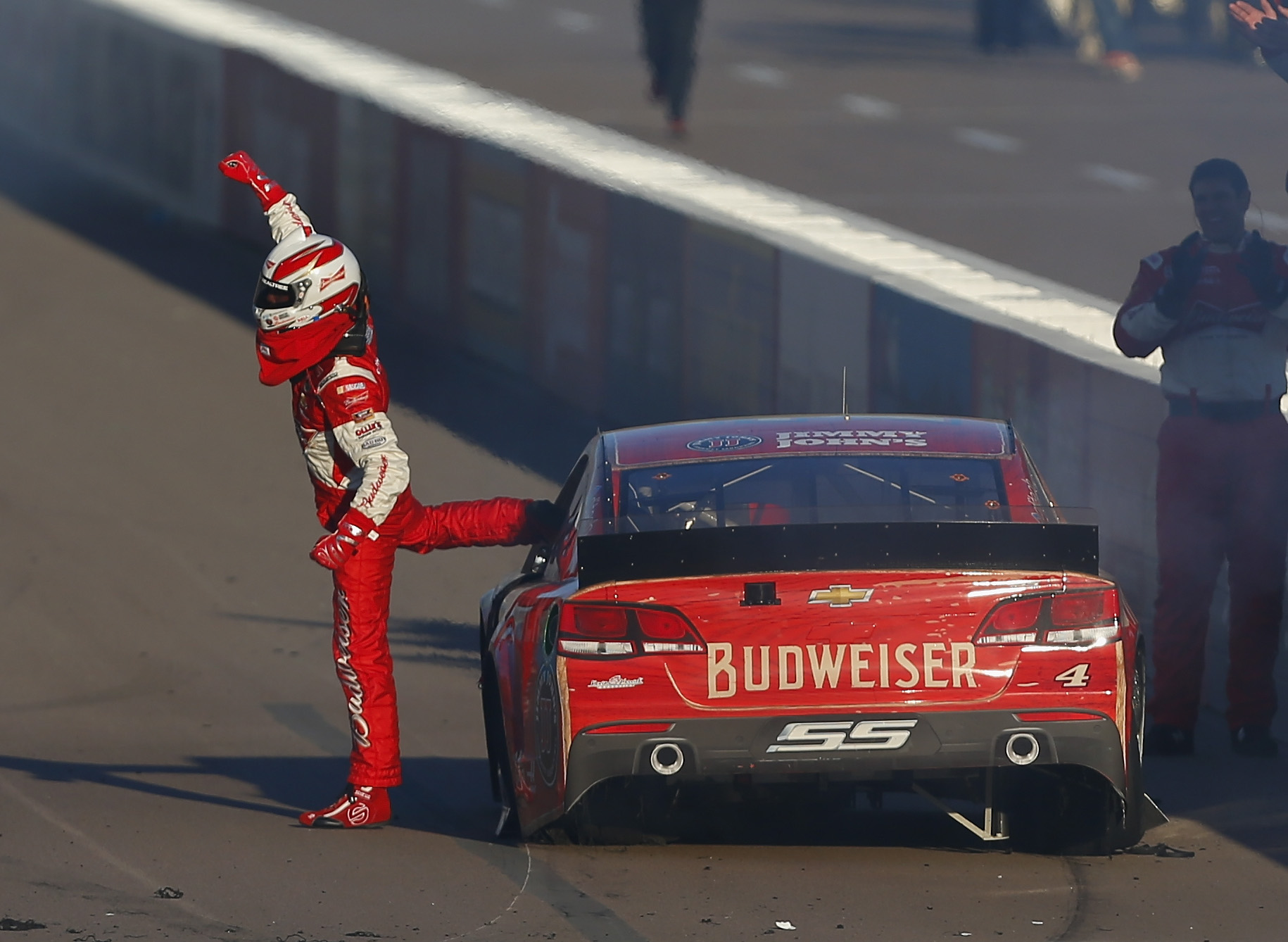 And then there were four.
The final combatants for this year's NASCAR Sprint Cup Series title are now set. Kevin Harvick delivered yet again at Phoenix International Raceway to earn the automatic berth into next weekend's Championship Race at Homestead-Miami Speedway, while Denny Hamlin, Joey Logano, and Ryan Newman each survived various problems on Sunday to earn the final three spots on points.
Between Harvick, Hamlin, Logano and Newman, we'll be crowning a first-time Cup champion in South Florida. It'll be a pure race between the four – no bonus points for leading a lap or the most laps. Whichever driver beats the other three gets the trophy.
On the other side of the cutoff at the end of 500 kilometers in the desert were four-time Cup champ Jeff Gordon, Matt Kenseth, Brad Keselowski, and Carl Edwards. Gordon was set to claim the final Championship Race spot via tiebreaker over Newman, but on the final lap, Newman knocked Kyle Larson into the wall to get 11th place and beat out Gordon by a single point.
Time will tell if this was the final opportunity for the legendary Gordon to earn his fifth crown. In the immediate aftermath, he was regretting his disastrous 29th-place finish one week ago at Texas, which came about following late-race contact with Keselowski (Gordon subsequently lost a tire and spun out).
That incident touched off a post-race fight that lent even more anticipation to Sunday's Eliminator Round finale in Arizona. But in the end, there was no carry-over save for Gordon's post-race shot about how he hoped he had "taught somebody" that you didn't have to wreck people to win a title. You get one guess about whom he was referring to.
Meanwhile, Harvick was, as you'd figure, exultant. It's been a wacky first year for him at Stewart-Haas Racing filled with incredible speed but many mistakes (some from himself, some from his No. 4 team) that have cost him wins.
None of that matters now. For him, the path is clear: Beat Hamlin, Logano and Newman next Sunday. Considering how fast he's been all year, it would seem that he is the pre-race favorite.
But maybe, just maybe, this Chase that continues to surprise us has one more in store for us…
—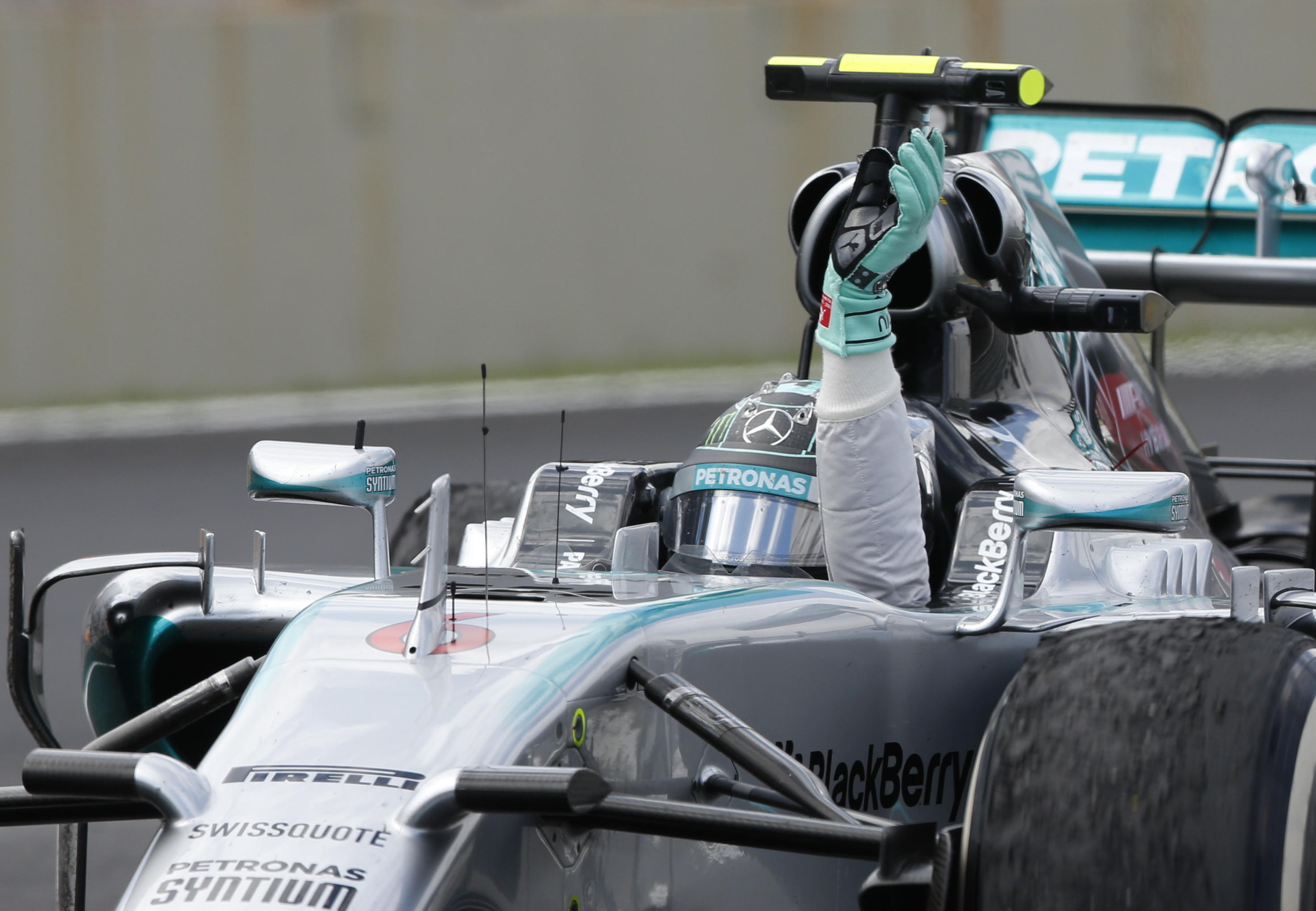 Needing a win to tighten the Formula One World Championship battle heading into the season finale at Abu Dhabi, Nico Rosberg stayed cool under pressure from Mercedes teammate Lewis Hamilton and won the Brazilian Grand Prix at Interlagos – his first victory since taking the German Grand Prix in front of his home fans in July.
Rosberg had a superb weekend in Brazil, leading all three practice sessions and winning the pole position before converting it into a critical triumph. He's cut Hamilton's lead in the standings to 17 points, and with double points on offer at Abu Dhabi, both Silver Arrows will have everything to play for in a fortnight.
While there are many ways to crunch the numbers, the most obvious way to a first career title for Rosberg is a win at Abu Dhabi and Hamilton finishing third. But if Hamilton wins or finishes second, the Brit will have his second F1 crown.
Meanwhile, the Brazilian faithful on hand in Sao Paulo were rewarded with a podium finish from native son Felipe Massa – his first at his home track since winning in 2008. The Williams man had to recover from several mistakes during the Grand Prix, but in the end, he sent his countrymen home happy.
MORE FROM BRAZIL: Toto Wolff is a happy boss at Mercedes … Mid-race spin for Hamilton proves costly … Suspension failure ends Ricciardo's points run … Button continues good stretch, but rues lost podium … Quiet day for Ferrari … Seatbelt issues ruin Bottas' afternoon …
—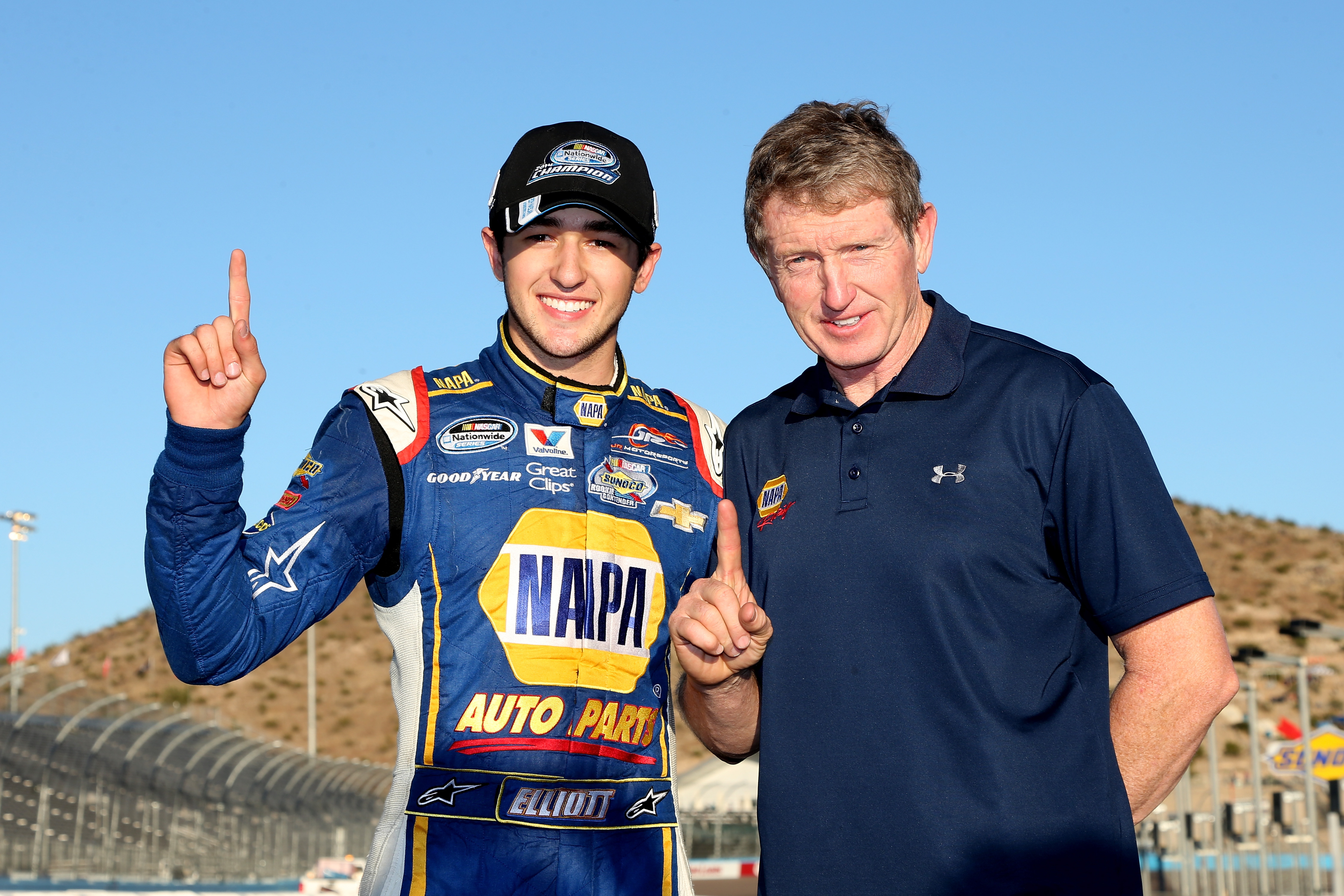 In the NASCAR Nationwide Series, Chase Elliott fulfilled his destiny on Saturday in Phoenix. A late-race push enabled the son of former Cup champ Bill Elliott to finish fifth and clinch the 2014 championship with one race to go.
With that, the Elliotts become the fifth father/son combo to capture NASCAR national series titles and young Chase becomes the, well, youngest NASCAR national series champion ever at just 18 years old.
So, now what? Elliott's set to stick around in the Nation-er, XFINITY Series next season. But will he also do a bit of part-time work in the top-tier Sprint Cup Series? Earlier this summer, Rick Hendrick indicated that we may see that.
That question will be answered another day. Right now, Elliott, his family, and his JR Motorsports team are enjoying a moment that's very special considering the team wasn't even in place a year ago. That's probably the most incredible aspect in all of this.
Driving for Hendrick and Dale Earnhardt Jr. as a rookie – never mind being the son of a champion – means high expectations. But Elliott was nowhere near daunted by them.
He broke through for his first win at Texas, but it was his triumph one week later at Darlington that effectively sealed his fate as a star NASCAR fans could look forward to seeing in the years ahead.
At the time, my colleague, Jerry Bonkowski, wrote of Elliott's win as him turning The Lady in Black into practically a "blushing schoolgirl." Charging from sixth to the win in the final two laps reminded me more of robbing a nigh-impenetrable castle of all its riches; rookies simply don't do what he did at Darlington.
Either way, it was awesome (pun intended). And from that point on, it seemed clear that he would emerge with the NNS crown. JRM teammate Regan Smith kept the pressure on him for a good portion of 2014, but ultimately, Elliott pulled away.
But while Elliott has locked down one NNS championship, another remains up for grabs this coming Saturday at Homestead-Miami Speedway. Keselowski, driving the Team Penske No. 22 car, was able to pass Kyle Busch in the Joe Gibbs Racing No. 54 car on the final lap to win the race in Phoenix – giving the No. 22 a 29-point lead over the No. 54 in the NNS' owner's championship.
—
OTHER COOL STUFF
Joni Wiman finished second this past Wednesday in Las Vegas to win the 2014 Red Bull Global Rallycross championship by five points over race winner Ken Block. Wiman, a GRC Supercar rookie, did not earn a single race win this year but ended with four consecutive podium finishes to take the title…Erik Jones delivered a brilliant performance in the NASCAR Camping World Truck Series at Phoenix and was handed the win when a second power outage at the track cut the race short after 126 of the scheduled 150 laps. Matt Crafton finished runner-up and now only needs a finish of 21st or better in Friday's season finale at Homestead-Miami Speedway to clinch his second consecutive Truck Series title.