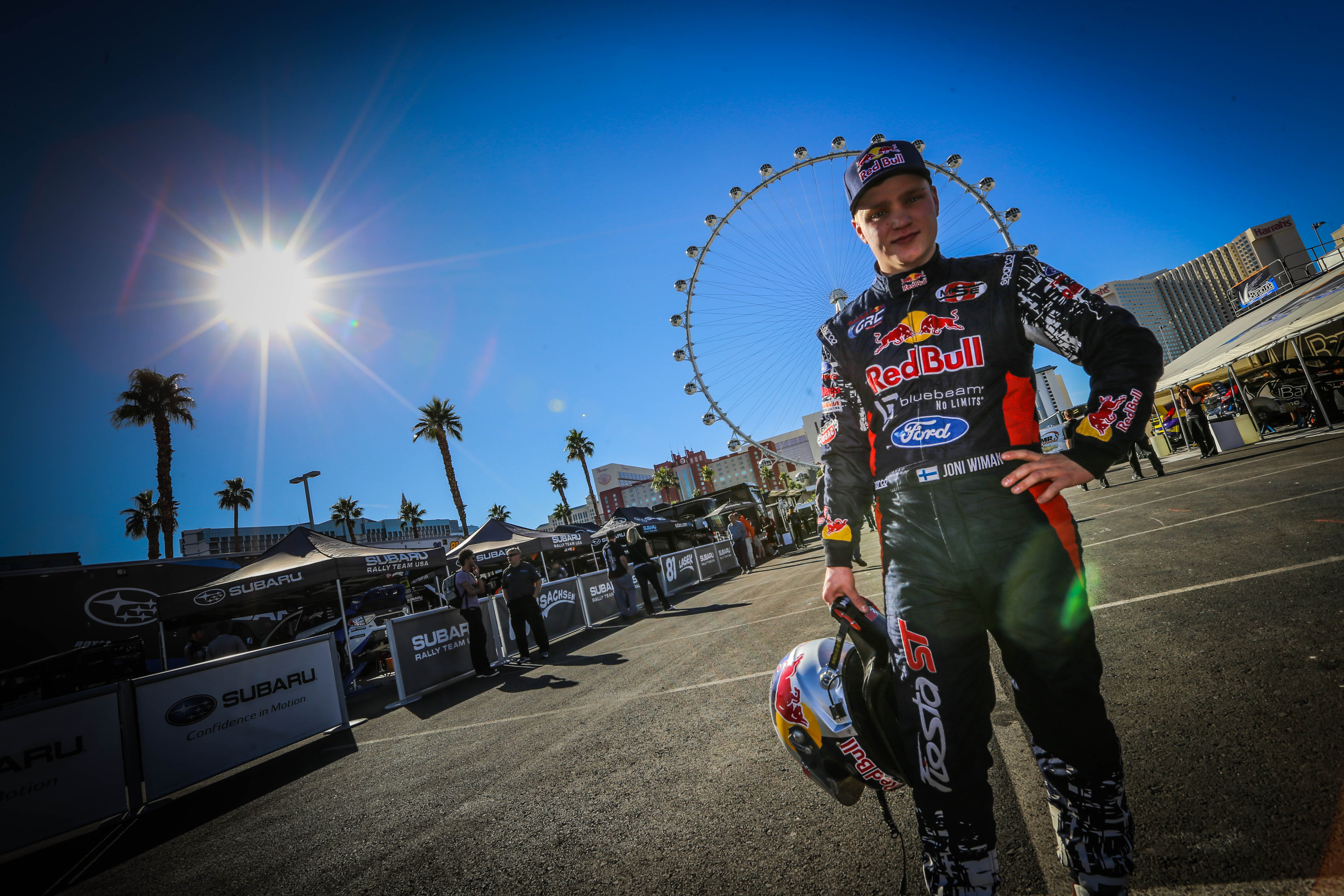 New Red Bull Global Rallycross champion Joni Wiman is back home in Finland, but recently took the time to do an e-mail interview with MotorSportsTalk. You'll hear more from the 21-year-old dynamo on Thursday, but this post focuses on how Wiman managed to emerge with the title following a fierce finale in Las Vegas earlier this month.
—
"Is this really happening?"
You figure that was what was going through the mind of Joni Wiman as he stood on top of his No. 31 Red Bull/Bluebeam Ford Fiesta ST while Ken Block – the man he just beat for the 2014 Red Bull Global Rallycross championship – saluted him by doing donuts around his fellow Blue Oval driver.
Such was the conclusion of last week's GRC season finale in Las Vegas. Block did what he had to do by winning the race, but Wiman's second-place finish was enough to give him the title by five points.
"I can't feel my legs right now," a happily awestruck Wiman said once he climbed down from his Ford.
The 2014 Red Bull Global Rallycross season finale from Las Vegas will be broadcast this Sunday, Nov. 16, at 1:30 p.m. ET on your local NBC station. It will also be streamed online and on your mobile device through NBC Sports Live Extra.
That happy daze must have continued until Wiman returned home to Finland. There, he says, was where his accomplishment set in.
"Everyone was jumping and cheering and it was exciting," he said. "But it's only been now that I've had a chance to relax and do nothing here at home that I have slowly started to think about it and I'm starting to realize what just happened.
"Winning the championship was quite a lot over my expectations and it feels unreal to be able to do it in my first year."
Wiman did not take a single race win and did not seize the points lead until the next-to-last race. But a season-ending stretch of four consecutive podium finishes was enough to make him the victor of a championship battle that went to the final race in Vegas between himself, Block, and a pair of former F1 and NASCAR racers in Scott Speed and Nelson Piquet Jr.
Block, Speed, and Piquet all had the GRC points lead at some point this year, but were unable to keep it. Coming out of the Los Angeles doubleheader, Block had jumped to the top over Piquet but in that aforementioned next-to-last race in Seattle, a mistake in the final caused him to finish ninth.
Wiman, on the other hand, finished second to take the lead from Block going into Vegas. There, a pair of heat race wins allowed Block to get within 10 points of Wiman before Piquet suffered a gearbox problem in his semifinal that kept him out of the Last Chance Qualifier.
With Piquet's season over, it was down to Wiman, Block, and Speed in the final. And out of all three of them, only Wiman could control his destiny: A second-place finish would lock up the title.
The race began with a crash involving Speed and Bucky Lasek in Turn 1. But both men were able to get back to the line for the restart, and while Block quickly blasted off to the lead, both Speed and Lasek were able to get past Wiman and knock him to fourth.
The championship was slipping away. So, on the fourth lap of the 10-lap final, Wiman took matters into his own hands.
Instead of waiting for a call from his Olsbergs MSE spotter/manager, Jussi Pinomaki, to take the joker lap – an on-course shortcut that drivers can only use once per race and can thus serve as a major strategy device – Wiman went for it himself after noticing jostling between Speed and Lasek ahead of him.
"I was expecting to wait for the call from Jussi, but Bucky and Scott were fighting a bit and Bucky made a mistake in Turn 3 that allowed Scott to get really close to him – and I got really close to Scott," Wiman recalls. "That's when I thought: 'Maybe now is my chance.' I was in a good position to take the Joker already. The line was open. Jussi didn't have time to say it but I went for it anyway.
"I actually made a mistake on the loose gravel going into the joker that cost me half a second or so, and then I was pretty scared because I saw Bucky on the main lap and he was already making the left-hand turn after the jump before I'd even turned in for the hairpin. I thought for a split-second that he might come out in front of me, but it was enough and I made it. That was a relief."
Wiman had gone from fourth to second, the position he needed to win the title. Eventually, he pulled away from Speed and Lasek but after initially trying to reel in Block – and only gaining a tenth or two per lap for his trouble – he realized that it was best not to push his luck.
"When Jussi said it was clear behind me, I started to think about the championship and I pulled it back a little to bring the car home," he said.
Block took the checkered flag to cap off a strong weekend for him. But the night belonged to Wiman, who became the fourth consecutive GRC champion for the Olsbergs team.
Leading up to the weekend, Wiman had wryly noted in pre-race interviews that he had just turned 21 and that there were many ways of celebrating such an occasion in the city they were in. But after taking the title, he reports that nothing occurred in the post-race party that had to "stay in Vegas."
"Of course, it would have been inconvenient to be in Las Vegas with a championship win if I hadn't turned 21 so I'm definitely glad my birthday happened before this race," Wiman concedes. "But it was really a normal celebration for our team, and with the family and friends who were there to support me. Even if I wasn't 21 yet, we would have found a way to celebrate together."