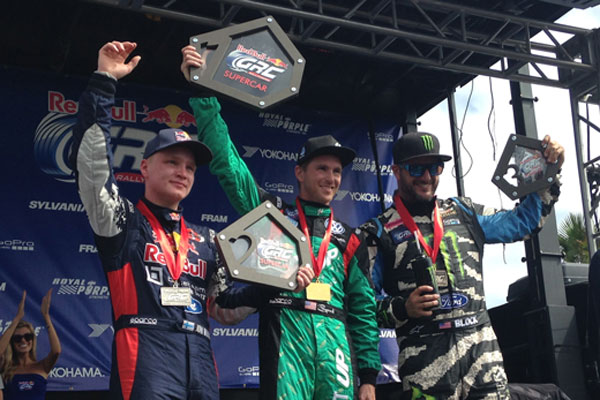 With the Red Bull Global Rallycross season now in the books, it's worth noting how one of the top teams from the Verizon IndyCar Series has diversified into the championship as a way of both expanding its business and hitting a key new market.
Andretti Autosport – or Volkswagen Andretti Rallycross as the team is known in GRC – had a driver in contention for the GRC title heading into the Las Vegas finale (Sunday, 1:30 p.m. ET, NBC) in the form of Scott Speed.
Speed's a fascinating case study of what GRC can provide. The last American driver to start a Grand Prix in F1, Speed was later replaced by a then-upstart named Sebastian Vettel in 2007, and headed back stateside for NASCAR. A handful of challenging seasons in stock cars followed and seeking a third career reinvention, Speed then headed to GRC, where he became an instant winner.
With Andretti, new partner 7UP and teammate Tanner Foust – renowned for his career of TV presenting, rallying and generating buzz among a younger demographic – Speed was in the perfect place and got the year off to a great start with wins in the first two races.
Their presence added to the series, and it was something both Michael Andretti and John Lopes (president, Andretti Sports Marketing) have extolled as part of the company's greater long-term strategy.
"This side is really important," Andretti told MotorSportsTalk in an interview from New Orleans over the weekend. "Just finishing GRC, and having Kuala Lumpur with FE (FIA Formula E) in a couple weeks, it's becoming a year-round thing for us. It's important to stay diversified, and we need to stay in the news."
Speaking specifically to GRC, Andretti said it's hitting the youth market more than IndyCar is at the moment.
"Both have a lot of very positive buzz; I'm very bullish on both of them," Andretti said. "Both series are going after the demographic, which we're all starving to get, which is millennials. To me being in the racing business, that's very important. We need to be in series that are hooking young guns, and following the sport for many years to come."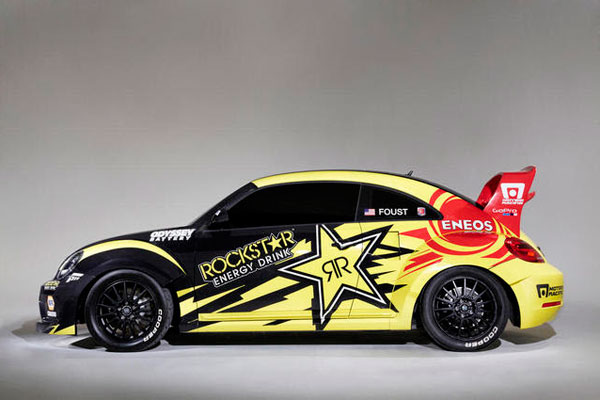 Lopes tells more of the business story, how Andretti got involved in GRC, and how it has progressed over the last couple years. Of note, Lopes highlighted Starke Taylor, a behind-the-scenes tour de force who serves as Andretti Sports Marketing's EVP and CMO, as the individual who worked to many of the partnership deals done.
"GRC was born out of a couple things," Lopes explained in an interview with MotorSportsTalk at the Andretti Sports Marketing headquarters in Indianapolis.
"What happened is Andretti Sports Marketing, because of its event business, helped provide operational staffing to GRC to some events. This was the year where it seemed everyone was asking, 'Can you help us in 30 days?' So we helped out GRC with an event that wasn't gonna happen (Vegas), and we jumped in to help. After that, what occurred we had a meeting with Volkswagen, and they told us they were thinking of getting involved."
Andretti's manufacturer relationship with Volkswagen stretches beyond its running of VWs in GRC, which were Polos for most of this season with the new Beetle introduced towards the end of the year.
"The untold story is that the foundation of the Rallycross program came based on Andretti Sports Marketing being the agency that runs VW's enthusiast and experiential events in North America," Lopes explained. "Our relationship is based on a multi-year relationship of running their enthusiast events. It's nothing to do with racing.
"So we're running trucks around, doing cycling events, festival events, big community events, ones in Virginia, Portland, Texas. And we run the race team in addition."
From a business standpoint, Lopes expanded on why hitting the coveted youth market is so crucial, and how GRC does a good job of that.
"If IndyCar is sort of the core business and the Indy 500 hits the largest amount of the world, Formula E is a diversification into something green and global, and rally is specifically targeting millennials," Lopes said. "So now when we sell to a sponsor, we can answer their questions of 'are you selling international?' We're in Formula E. 'Are you selling to millennials?' We're in GRC. That's what rally is about. And it was also about expanding relationships with auto manufacturers. It was the beauty of it."